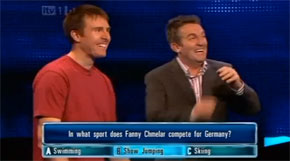 Few things are funnier than watching someone try NOT to laugh, as evidenced by Law & Order: UK star Bradley Walsh's almost convulsive attempt to keep his composure on The Chase, the British game show he hosts. The reason behind this near-seizure? A contestant on the show is asked the question, "In what sport does Fanny Chmelar (pronounced SCHMEL-ler) compete for Germany?" (And if you're a dedicated reader of this blog, you know the word "fanny" has a very different meaning in the UK, ripe for all kinds of badness.)
You kind of wish he would just give in and let out a huge guffaw. He looks like he is in pain here:
The correct answer is skiing, just so you know.
Read More
Filed Under: