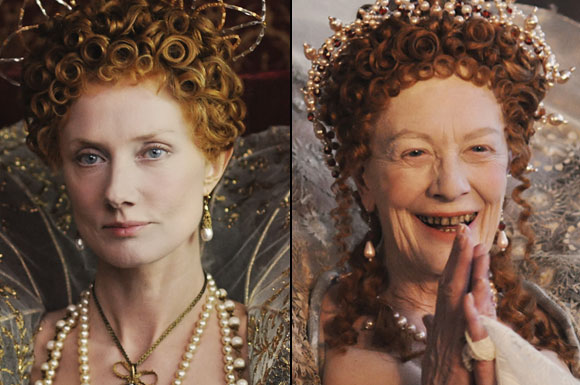 British actress Joely Richardson stars in the new historical thriller Anonymous playing Queen Elizabeth I in a cast that also includes her mother Vanessa Redgrave. The older Redgrave also plays Queen Elizabeth I but in her later years. I sat down with Richardson to discuss the movie, the debate it's reigniting about who really wrote Shakespeare's plays, and what it was like working in the same film as her mother.
TOM: In this film, you play the younger Queen Elizabeth I, and your mother plays the older version, but therefore you're in the same movie, but you didn't meet, is that right?
JOELY RICHARDSON: I've met her. No, no, no. Obviously, I'm being silly. We didn't meet onscreen, but we met on the sound stage, and we met in hair and make-up, and it was lovely. Well, "lovely" doesn't really describe it. It was incredibly special to both be in the same film playing Queen Elizabeth.
TOM: And did you talk about the part a lot and how she should be portrayed?
JOELY RICHARDSON: We did talk about the part, but we didn't talk about how she should be portrayed as such, because the young Elizabeth is so different from the older. The older Elizabeth is, I found, there's something broken about her. She's become so divorced from reality, whereas the young Elizabeth is still very much engaged in reality. She perceives it, still full of life, and so there are such different times in the same person's life.
TOM: Do you think the film does show Queen Elizabeth in a new light in a way?
JOELY RICHARDSON: Well, I think we have seen her in many lights, and that is what's so exciting and rich about that whole period of history, is that you could go on and on, have a million different interpretations. I think that especially the young Elizabeth, the part that I get to play, she's this passionate fiery woman that does have very strong impulses and then has to rein herself in because she wants to hold onto her throne, which you know, is the standard Elizabeth story, and which she succeeded in.
TOM: Where do you stand with the whole debate that's raised by this film about whether or not William Shakespeare did write those plays?
JOELY RICHARDSON: Well, I knew nothing about the authorship debate before this really, and then I started to read about it and asked lots of very learned people about it to hear of the different schools of thought, and I am now open. I have no conclusions but looking at the facts, I think it is unlikely that it was William, the man from Stratford, as they call him, that could have been the sole author of all the plays and sonnets.
TOM: The film is directed by Roland Emmerich and to most people, they think of disaster movies when they hear his name, because that's what he's mostly directed. Do you think in a way he does bring a fresh perspective to a period film like this because of that background?
JOELY RICHARDSON: I think he brings a very innovative style of filmmaking to the period, not so much a fresh take, but the instrument of film creation [he has], I felt. I sat in my seat ready for the film to start, and boom! It starts, and it smashes you over the head, and it goes at the speed of light, and I completely got lost in his world. And I think if he didn't have his background in the type of stories he's told before, perhaps he wouldn't have been as adept at taking the speed and energy and vibrancy into this particular story.
Read More
Filed Under: