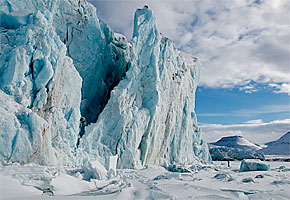 The trailer you are about to watch was shown on BBC1 on Saturday evening, just before the season finale of Doctor Who. It is so fantastical and wondrous that a lot of people on Twitter said they'd half expected the TARDIS to appear mid-shot, behind the narwhal or in the reflection in the penguin's eye.
It's for Frozen Planet, a nature documentary series on the frozen poles at the northern and southern extremities of Earth, which is narrated and presented by Sir David Attenborough.
The show will appear on the Discovery channel in spring 2012 (and eventually on DVD and Blu-Ray), and as you can see, it's going to be worth putting in some serious sofa time, just to wallow in the visual delightfulness on offer.
Yes? Yes:
Read More
Filed Under: