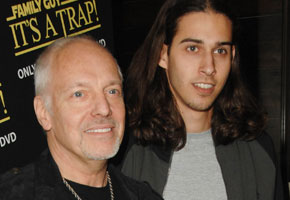 "Double live set from Peter Frampton should be the one to finally establish the British singer/guitarist as a superstar-level performer." So said Billboard in 1976, and they were right. Frampton Comes Alive! reached Number 1 on Billboard's U.S. Top 100 (where it stayed for 10 weeks) and remains one of the best-selling live albums of all time.
Where is superstar performer Peter Frampton now? 35 years after the release of Alive!, he is re-energized and on an international tour dubbed Frampton Comes Alive! 35, performing the album in its entirety, along with new material, instrumental selections from his Grammy award-winning 2007 release Fingerprints, and even a cover or two.
LINDSAY: How would you describe the audiences coming out to see this tour?
PETER FRAMPTON: I'm very lucky. I've got people that were there 35 years ago and people that have never seen me, that are two generations removed. It's quite a cross section depending on the venue. No kids at my casino shows but when I have all age shows at the theaters/amphitheaters, I have some 12 year-olds that want to be guitar players. Their parents turned them onto Comes Alive. It's always a surprise to see younger and younger faces as well as people my age, which is far too old…
LINDSAY: So many brilliant UK acts emerged in the '60s and '70s. You were part of that wave. What are your feelings about what might be the next wave of talent coming out of England?
PETER FRAMPTON: There's always going to be great new music. I'm optimistic. People that couldn't get signed by record labels in the old world are going to have a much better chance of getting their music recorded very cheaply themselves and then on line for everybody to hear. Word of mouth is the thing today that's enabled many acts. There's a lot of underground music right now coming to the fore because of the internet. You don't have so many clubs where bands can play out and be seen, but you've got the internet which has made it very easy for young up and coming artists to get their music out there.
LINDSAY: Some would say too easy. You see people fashioning themselves as artists while perhaps looking for something more immediate and overnight. What would you say to artists looking to establish staying power like yourself as opposed to becoming the next YouTube sensation?
PETER FRAMPTON: I think the artists that have staying power do what they do for themselves, not to be famous. If you don't have the passion or creative artistry to create something for your own passion, first and foremost, if you can't turn yourself on, then how are other people going to like what you do? Great acts come about because the go out there and create something from scratch with the idea to play great music.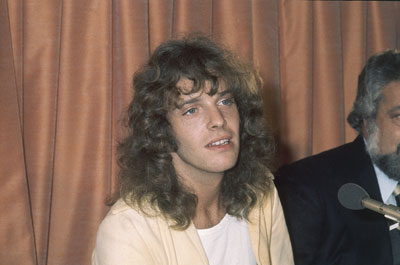 LINDSAY: What inspires you to keep playing music?
PETER FRAMPTON: Everything from learning from my children, as I see them go through such a different era than I grew up in, to seeing how the world is drastically changing. It's sped up to this point where it's a dangerous period and we don't know what's going to happen. Everyday life. It's always a personal experience that inspires me to write another song or say my piece about something that irks me or makes me feel great.
LINDSAY: I was watching video of you playing "Road to the Sun" with your son Julian. You're beaming. What's it like to see your son working as a musician/artist? Do you give him advice? Does he listen?
PETER FRAMPTON: We are kindred spirits. It's his passion, too. He's a musician in his heart. It's what he wants to do. One of my other daughters, Mia, is into music and acting. When Julian and I would get together and I'd play guitar, he'd play drums, but when we sit down and write a song, we wrote that one very quickly, decided to send that one to my producer. When I played him the one with Julian, I didn't say who it was. When Julian's voice came in he said, "This is great, we've got to do this!" He made it on merit, my son, I didn't say, "Oh, you've got to hear my son." I just stuck it in there with the other tracks and demos I'd done. We took it from there and he comes out whenever he can and plays with us. He'll be with us in Europe.
LINDSAY: Let me ask you about your 2010 release Thank You Mr. Churchill. I love this album. The song "Vaudeville Nana and The Banjolele" speaks to the importance and power of memory. The lyric, "I have this dream. We're all at the table sharing verses, story and song… she hands it to me and I play it alone" is so affecting.
PETER FRAMPTON: It's the story of how one visit to the attic with my dad to look for suitcases for a summer vacation turned out to be finding my destiny, in a little instrument in a case left for me by my grandmother. She planted the seed and didn't know whether I'd be musically inclined or not. They're all gone now — my grandparents, my parents — but I can close my eyes and be back there with all of them. It's very important and means so much to me. My parents who encouraged me, never pushed me, saw it was much more than just a hobby. Family plays such a huge part in shaping a child.
NEXT: Frampton on grunge, 9/11, social media, and Doctor Who
Read More
Filed Under: