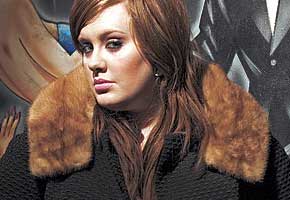 I know, it's the first thing I thought too. Here's Adele with a recurring throat problem, in which she blows her own voice out time and again, and apparently it has nothing to do with her fondness for the gaspers (that's cigarettes to you). It's more to do with her constantly yapping mouth.
She told the Sun: "Smoking is not the reason I got laryngitis – it was because I was talking too much. I damage my voice offstage, not onstage.
"Onstage I am fine as apparently I am technically great, but when I talk I damage my voice big time."
Hear that? She's "technically great," her abilities have been proven by science. Anyway, it seems even a life of abstinence won't bring that voice back if she can't learn to shush.
She explained: "I have got screwed into giving up smoking. If I wasn't a singer I still would be smoking 25 a day.  Smoking is my favourite thing to do in the world, I am gutted I have had to give up. But I have been tough – no patches, no gum, no hypnotism. It f****** sucks."
Well stop going on about it then, think of the damage!
Here's what else is going on today:
• Sir Paul McCartney got married to Nancy Shevell, and had a party back at his North London house. Last to leave were Ronnie Wood and Kate Moss, at 3am. (via Gigwise)
• Stranded at a German airport over the weekend, Jessie J decided to perform an impromptu concert for everyone. And according to her, it made people "smile."
Well, they were probably baring their teeth for one reason or another. (via Contactmusic)
• Mitch Winehouse is writing a memoir of his daughter Amy, which will be published next year. All profits will go to the Amy Winehouse Foundation, the charity Mitch set up to help recovering addicts. (via Metro)
• BBC Radio 1 hosted their annual Teen Awards yesterday, and the winner of the Best British Actor trophy was Rupert Grint. His speech was cute: "I'm just the ginger one in the background, this shouldn't be happening!" (via InStyle)
• Singer-songwriter Ed Sheeran has revealed what it would take for him to have auditioned for the X Factor, a lack of talent: "If I couldn't play music or write songs I might have gone down that route." (via Yahoo)
• David Beckham has had the word 'love' tattooed on the back of his hand. Victoria Beckham has tweeted the photo, which also includes baby Harper's hand, grabbing Daddy's finger.
• Let's end on a song. Here's the Kate Bush's latest, "Wild Man," taken from her new album "50 Words For Snow," which is available for download tomorrow.
Do we like? Tell us here:
Read More
Filed Under: