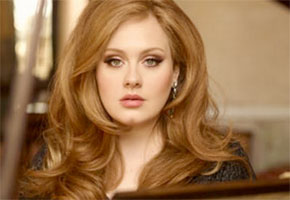 It's a fine showbiz tradition, that the producers of the James Bond movies will pick only the most worthy of musical stars to write them a theme song. They can be notable for reasons of astonishing vocal talent (Tom Jones, Shirley Bassey) or wondrous songwriting (Paul McCartney, Carly Simon), or because they are very popular in the charts (Duran Duran, Garbage), but it's always an honour to be asked, and most people jump at the chance.
And so has Adele. The Sun reports that not only has she been asked to provide the soundtrack song for the next Bond movie (so far it's just called Bond 23, which is probably a good thing, given the global headscratch which accompanied Quantum of Solace), but she's already written it and has lined up Florence and the Machine producer Paul Epworth to record it with her.
A Bond insider is reported as saying: "Adele is the obvious choice to record the next Bond theme. The last few songs for the spy movies have hardly set the charts alight. After her success this year filmmakers know the song is almost guaranteed to be a huge hit."
Almost? ALMOST? Sheesh!
Here are our top stories of the day:
• Kate Winslet has been speaking at length about the eerie coincidences between the divorce of her character in Mildred Pearce and her own divorce from Sam Mendes, and how this made filming hard going at times: "As a woman, especially when you have children, one gets so good at soldiering on – almost too good. Because you know what it's like – as soon as you open that can of worms, it's so f***ing big, you wish you'd never taken the goddamn lid off." (via Glamour)
• Coldplay prefer playing stadiums to club gigs, because the audience can't smell them in a stadium. (via Musicrooms)
• The Stone Roses have got back together, to work on a new…book. Which isn't quite the reunion we had in mind. (via the Independent)
• Director Kevin Durand has praised Robert Pattinson's performance in Kevin's film Cosmopolis: "He did some really excellent work that I think he should be very proud of."
The temptation to add "A+" after that is almost overwhelming. (via Gigwise)

• Rowan Atkinson's daughter Lily is very pretty. But she should maybe consider brushing her hair. (via Yahoo)
• Ricky Gervais is in talks to do a rival commentary to the Golden Globes next year, via a live webcast, rather than hosting again, which he reckons he wouldn't be offered in the first place: "I have no idea if it will work but I didn't know if podcasting would work back in 2005 when I launched The Ricky Gervais Show. I didn't particularly care either. I was doing it for a laugh. There are not many better reasons to do anything." (via the Telegraph)
Some people take their vacations in hot places, but not Orlando Bloom. After finishing the last Pirates of the Caribbean film, his chosen destination for a bit of R&R was Antarctica. (via Female First)
• Newlyweds Sir Paul McCartney and Nancy Shevell turned out to support Stella McCartney at Paris Fashion Week. Stella was pleased. (via Hello)
• The great Julie Walters, who played Mrs Weasley in the Harry Potter films, has been nominated for an international Emmy for her portrayal of the equally great Mo Mowlam, the British Secretary of State for Northern Ireland who brokered an historic peace deal while afflicted with a brain tumour. Benedict Cumberbatch has also been nominated for Sherlock, as is only right and proper.
• Robbie Williams has left Take That. His bandmate Gary Barlow says it was an amicable departure: "He's our brother, Rob is, and if he's ever in trouble or he wants to have a year off being Robbie Williams, he's welcome any time he wants." (via the Mirror)
• Except apparently he HASN'T left after all. Gary's spokesperson, who really shouldn't be contradicting his or her boss in public like this, insists that while the band are taking a break, all five members are still very much together. (via Stereoboard)
Read More
Filed Under: