As we've seen at Comic-Con and all the other Cons, Doctor Who fans are truly some of the most creative folks out there – and they also know how to have a good time. With the holidays upon us, what better way to celebrate your creativity than with a Doctor Who-themed party? We're giving you and your guests the tools to a thrilling Whovian night you won't soon forget. (Note: this isn't just for a specific season. You can throw a cracking Who party year round.)
1. Invitations and Cards
Celebrating the Whovian theme can start with the invitations themselves. Of course, you can mail your invites in TARDIS blue envelopes à la "The Impossible Astronaut."
Other options: leave whimsical messages on pads of psychic paper. And be sure to forgo the stale, saccharine "Season's Greetings" messages: create your own seasonal notes with Doctor Who quotes.
2. Costumes
The 50-year history of Doctor Who provides an infinite array of costumes to choose from, including the 11 Doctors, dozens of companions, supporting players from all of time and space, various Masters, and myriad monsters. (There are even variations for each character. Do you want to be pregnant Amy Pond or kiss-o-gram cop Amy Pond? Eleventh Doctor with a Fez or Stetson?)
And, as we've seen many times at Cons, the TARDIS itself makes for a fantastically stylish ensemble, whether you're opting for a dramatic re-interpretation or sliding on a police box. (But if your guests are going for a literal approach to the TARDIS, suggest they wear something underneath. They might actually need to sit down sometime during the evening.)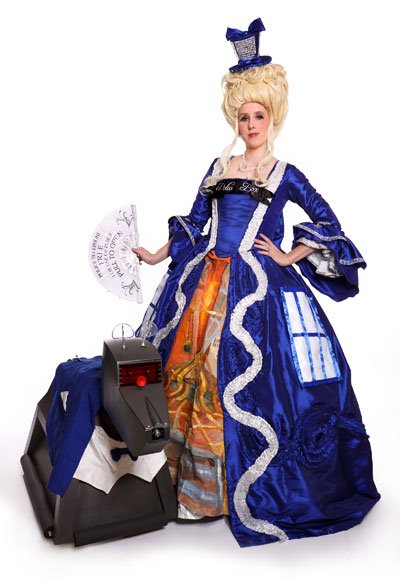 Doctor cosplay need not break the bank: Anglophenia's Fraser McAlpine has written some no-fuss, step-by-step guides to dressing like each of the 11 Doctors. Some of the outfits are easy (the Ninth Doctor's spartan combo of black pants and a leather jacket), but others require a craftsman's dedication (a.k.a. the journey through a psychedelic, thrift-store Cuisinart that is No. 6's costume).
Getting the clothes right is fundamental, but equally important are the correct accessories and details. The BBC America Shop has loads of items to choose from, from sonic screwdrivers to The Master's fob watch. And here's a clever take on the standard manicure: TARDIS nails.
Need some inspiration for your get-up? Most of the finalists in the BBC America costume contest took their cues from the Whoniverse, and there are truly out-of-this-universe ideas in the bunch.
3. Entertainment
A Doctor Who party isn't complete without screening some episodes. If you have a projector, aim it at the wall for a little Timelord-inspired light show. (And that montage of the Doctors during the Season 5 premiere, "The Eleventh Hour," would be great played on a loop.)
Set aside a room for guests to chill and enjoy some of their favorite Timelord tales, and for your year-end celebrations, Doctor Who makes it easy with all of the Christmas specials, which are enjoyable regardless of the holiday you celebrate.
Also, engage your guests' competitive spirit with some games. Costume contests are no-brainers, but nothing will get a Whovian's mojo working like a fine round of 'Doctor Who' trivia. Here's a sample trivia question for your party – do you know the answer?
What does the Doctor use to see the Krafayis in the "Vincent and the Doctor" episode: a mirror, a sonic screwdriver, or a digital camera? (Correct answer: mirror.)
4. Food
There are few things that test one's endurance than a party without munchies. (Unless you want a room full of restless people with low blood sugar, cranky and blotto after two sips of SoCo and lime.) Never fear: BBC Good Food has offered us a selection of Who-themed recipes that will silence those growling stomachs. The menu includes savory dishes like fish fingers and custard (trust us, this one's suitable for non-Timelord palates), radioactive-spuds with cool avocado cream, tiny TARDIS pies, and K9 dogs with mustard onions. To satisfy those with sugar cravings, bake up some ginger companion cookies and some mini-chocolate dalek cakes… or build your own TARDIS cake. And if your baking tastes like spackle, you can always invest in a few packs of Jammie Dodgers.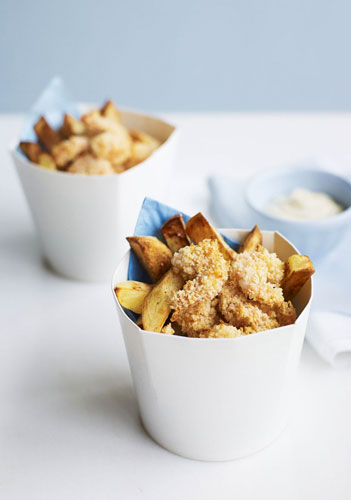 And wash it all down with, wait for it, a Sonic Screwdriver. (For the kiddies, you can make it sans alcohol, but for the adventurous adults in the room, add your own festive splash of your favorite poison, depending on how powerful you want your Sonic to be.)
5. Décor
Decorating your Doctor Who party can be the most work-intensive portion of your planning, but it's worth it, as it sets the proper mood. Take a gander at our Doctor Who photo gallery for setpiece ideas. (Instead of a piñata, hang a creepy bouquet of Silences on your ceiling.) And look at the submissions for BBC America's "Where's the TARDIS" contest, which may spark your imagination. (The lava lamp TARDIS is genius.) As cold and flu season is coming — plus you might have a few guests who get weepy during the Christmas specials — supply the partygoers with Kleenex in a TARDIS tissue box. (Building instructions available at link.)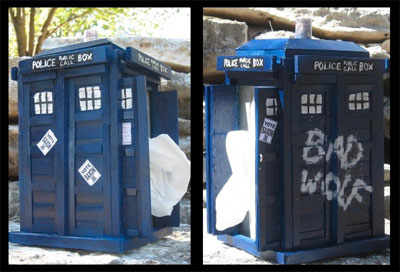 And for gifts and party favors, place a few toys around your party to amuse and entertain. The BBC America Shop suggests the Desktop Patrol Dalek, the Levitating Timelord's Spinning Tardis, or the Silence Nano-Recorder.
6. Music
Merrymaking needs a soundtrack. Don't rely on generic Christmas carols or top 40 jams — who needs to hear "Party Rock Anthem" or "S&M" for the 10 billionth time? Fully commit to the Whovian theme. Not only is there Murray Gold's beautifully composed score, but there is a whole stylistically diverse genre of Doctor Who-inspired music to plunder – Trock a.k.a. Timelord Rock. You can go dance-y (with songs like The KLF's "Doctorin' the TARDIS") or rock-y (Chameleon Circuit's oeuvre) or intimate singer-songwriter-y (Allegra Rosenberg). For a selection of trock tunes, click here.
And reminder: there is an Eleventh Doctor dance, and it is awesome. Try this instead of the Electric Slide at your next soirée:
What other suggestions do you have for a Doctor Who party?
Read More
Filed Under: