You might not have known it, but this past weekend was Boris Karloff weekend. And not just in the sense that every Halloween is spiritually overseen by the famous horror movie actor.
This weekend was officially named Boris Karloff Weekend by New York Mayor Michael Bloomberg, who pointed out in his proclamation that this year also marks the 80th anniversary of the movie Frankenstein, the 70th anniversary of Karloff's Broadway stage debut in Arsenic and Old Lace and the 45th anniversary of How the Grinch Stole Christmas, which Karloff famously narrated.
Sara Karloff, the late actor's daughter, noted that because of the Grinch, her father's seasonal influence doesn't actually end with Halloween.
"He had this really broad career, but he was fortunate enough to own two holidays – Halloween and Christmas," she said. "He always referred to it as his busy season."
The British actor's daughter was on hand last night at New York's Museum of the Moving Image to discuss and honor her father. At a packed screening of Frankenstein, she pointed out some things you might not have known about the iconic actor's life and career, which spanned more than 150 films, as well as stage, radio, TV and spoken word performances.
No one really thought Frankenstein would be such a success and the studio never imagined that Karloff would emerge as its star.
Another British actor, Colin ("It's alive! It's alive!") Clive got top billing as Dr. Frankenstein – remember, Frankenstein is the creator, not the monster. Second billing went to the literal bride of Frankenstein, Mae Clarke, perhaps most well-known for being on the receiving end of James Cagney's grapefruit in Public Enemy. The opening credits don't even list Karloff's name, just a question mark, a promotion gimmick certainly, but one the studio probably would not have used with a more famous actor.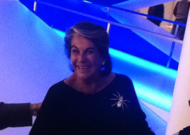 "My father wasn't even invited to the premiere," Sara Karloff said to gasps of disbelief from last night's audience.
The year before, Universal's Dracula had been a smash success, but everyone expected that, in large part because Bela Lugosi had been such a hit in the Broadway play. Lugosi was therefore the studio's obvious first choice for the part of the monster.
"Bela turned it down because it was not a speaking role, and there was so much makeup involved," said Sara Karloff. "He was a highly trained stage actor, and it just wasn't something that he wanted to do."
Karloff got the role after he ran into James Whale in a chance meeting at the studio commissary and asked the director (and fellow Brit) for a screen test.
Once he got the role, Karloff worked for weeks with makeup director, Jack Pierce, who used techniques no one had used before.
Sara Karloff showed a clip of the only known color footage of her father in costume for the monster, as he clowns around with Pierce. "The makeup had this greenish tint," she explained, because "in black and white film, on the screen, it would translate into a deathly gray."
There was no bad blood between Boris Karloff and Bela Lugosi.
Sara Karloff also told the audience that rumors of a rivalry between Karloff and Lugosi were simply untrue. The two worked together on many films, she said, and there was no "personal animosity or professional jealousy – that was all studio hype – and it worked – the studios fed on that, and it made for good box office."
Boris Karloff was one of the founding members of the Screen Actor's Guild.
Karloff's legendary performance in Frankenstein was also a grueling one, said Museum of the Moving Image curator David Schwartz. Although the role made his career, the hours of makeup were brutal and made him realize how important safe working conditions were to actors – leading him to become one of the founders of the Screen Actors Guild, said Schwartz.
Karloff was the union's ninth member – that's his member number on his card – and last night, SAG sent an honorary certificate of appreciation to Sara.
"My father's proudest work was with the Screen Actor's Guild," she said.
Boris Karloff loved cricket and gardening – and all things British.
Karloff was born William Henry Pratt on November 23, 1887 in East Dulwich, London. He was the youngest of nine children and was expected to go into the British Foreign Service, like his older brother, Sir John Thomas Pratt, who looked down on his sibling's choice of acting as a career.
http://www.youtube.com/watch?v=mg6O-rnHDdw
Even after Frankenstein and The Mummy, when Karloff was visiting London to make The Ghoul in 1933, Sara Karloff said Sir John asked his brother whether he was making good money in the movies, warning: "I certainly hope you're saving it, because this can never last."
Although he left England for Canada in 1909, he never gave up his British citizenship. He did, however, shed his name, perhaps to shield his family from the disdain they feared from having an actor in the family. Publicly, Karloff said that Pratt seemed like an unfortunate name for an actor, suggesting pratfalls.
His daughter says he used to say in interviews that "Karloff came from somewhere way back on his mother's side of the family, and Boris came from thin air."
To get his first job at a repertory theater in British Columbia, said Sara Karloff, "he presented himself as an experienced British actor, when in fact he'd only seen the plays. But he had a British accent, and even people in British Columbia were impressed with them."
After 10 years of acting in Canada – and a variety of odd jobs – he then started getting bit parts in Hollywood. But he never lost his love of Britain.
"He was a Brit, through and through," said Sara.  "He earned his living here, he paid American taxes, but in his heart of hearts, he was English."
He loved gardening, she said, adding "it's not true he buried his friends under the roses."
"He adored the game of cricket," she said. "He thought he had died and gone to heaven when he could go to a five-day cricket match and have smoked salmon and cucumber sandwiches."
For the last decade of his life, Karloff moved back to England, where he had a flat in London and a cottage he called "Roundabout" in the countryside.
"That was my father," said Sarah. "He died in England, loving being English."
Boris Karloff's favorite actor was George Kennedy.
When she was asked who her father's favorite actors were, Sarah Karloff said the only performer whose craft he'd ever specifically mentioned to her was veteran American actor George Kennedy, who's been in more 200 movies and TV shows and who won an Oscar for his performance in Cool Hand Luke.
She said that she met Kennedy for the first time last year and told him that he was her father's favorite actor.
"It brought tears to his eyes," she said.
Kennedy told her that he'd once seen Karloff coming out of a stage door on Broadway and had wanted to talk to him, but didn't "have the nerve."
"You know, I've always regretted not doing that," the tough guy actor told her.
"I wish you had, it would have meant so much to my father," she told Kennedy.
"And the tears got bigger," she said.
Read More
Filed Under: