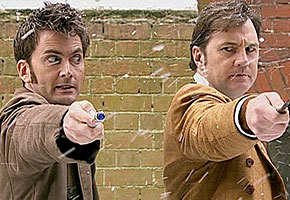 It all started with yesterday's Doctor Who roundup, in which we pointed to the Radio Times and their Top 10 of Doctor Who guest stars (since the show's relaunch in 2005). It's a great list, giving props to Bernard Cribbins's peerless turn as Wilfred Mott, as well as James Corden and the amazing Alex Kingston (who I'd have said was more of a proper companion than a guest star, but that's nitpicking).
However, it was by no means a complete list, and it sparked something of a debate among the Whovians of Anglophenia, all of whom have their own ideas as to which guest stars also deserve a special pat on the back. Thankfully we have the means to deliver that very thing, right here and right now.
So, here are five of our favourite guest stars of the past six years, without whom any list, even the very good Radio Times one, is significantly flawed:
Zoe Wanamaker – The End of the World (and others)
The second show of the newly relaunched series and we've already discovered an amazing new Who villain. Lady Cassandra, the last human. Vain, shallow – she's literally millimetres thick – and utterly ruthless. She looks like the scrag ends of Katie Price, once Katie Price has left the cosmetic surgeon's office, jammed together into silly putty and stretched across a trampoline frame. And she thinks like the Master. Who could fail to love her?
Penelope Wilton – Aliens of London/World War Three (and others)
We first meet Harriet Jones MP when the Ninth Doctor battles the Slitheen. At the time she's just a humble back-bench minister, running for her life, but she made enough of a stir to be brought back, this time as Prime Minister, for David Tennant's first episode. It's during this storyline that she fires on a departing Sycorax spaceship, and the Doctor cripples her political career with a carefully whispered "don't you think she looks tired?" By the time the planet has been half-inched by the Daleks in The Stolen Earth, she's very much the former Prime Minister, but still manages to save the day by bringing all of the Doctor's companions into contact with one another, then ordering them to do something, like a grumpy schoolmistress. An act she pays for with her life.
So, in summary, she's only in three stories, she dies in the third, and yet she gets her own catchphrase. That's not nothing, people:
Jessica Hynes – Human Nature/Family of Blood
Not many people get the chance to turn down the Doctor's offer of companionship. Fewer still get to puncture that shell of brittle cockiness in any meaningful sense. Joan Redfern does. Not that she can take any pleasure from it. She's fallen in love with John Smith, the handsome new teacher at her school who happens to be the human version of the Doctor, whose life and memories have been downloaded into a fob watch. Of course, he's only done this because he's being chased by evil aliens, who kill anyone who gets in their way. So while Joan wishes nothing more than a life with her new love, when he returns to his full state, even after the aliens are defeated, she can't bear to look at him. Science-fiction isn't supposed to hurt this much, is it?
David Morrissey – The Next Doctor

At first the central conceit of the Doctor Who Christmas Special 2008 seemed like an exciting, slightly confusing romp, in which David Morrissey swans around Victorian London in a frock coat, waving a screwdriver and calling himself the Doctor. Could he be a subsequent incarnation of our favorite Time Lord? Could he be an actor pretending to be the real deal? But when the revelation hits as to why this man believes that he is a time-traveller from Gallifrey, and when you see what agonies explode across his mind, each new revelation a fresh twist in an old wound, because they cascade across his face… well it beggars belief. This performance was stunning enough to provoke calls for David to be considered for the role of the Doctor when David Tennant left the show. And after watching this, it's hard to disagree:
Carey Mulligan – Blink

Blink is arguably the best story of the relaunched show, and a definite contender for best Who story ever, and Carey Mulligan is the star. She plays Sally Sparrow, the girl who is being chased by the Weeping Angels. You only have to watch this clip to understand the plot, but it also illustrates that the Doctor does not even need to be present in his own adventures. Here, he plays a cameo role, the wise sage who helps the innocents protect themselves against the forces of pure evil. Meanwhile Sally, a character nobody had laid eyes upon before this story began, takes centre stage, and effectively becomes the star of the show. In fact, when she finally meets the Doctor at the end, there's a jolt of disloyalty, when you realise you've forgotten quite which character you turned on the TV  to watch.
Who should be added to this list? Tell us here:
Read More
Filed Under: