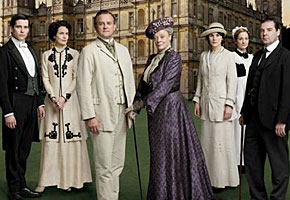 There's been some speculation about the future of Downton Abbey recently, once it became clear that the show had only originally been plotted out as far as the end of Season Three, the next one after this current one has finished.
So, in the interests of public safety, we're pleased to reveal that the show is in rude health and will continue to be so for the foreseeable future.
Gareth Neame, the MD of UK production for NBC Universal International TV, told The Hollywood Reporter: "The show's impact has been greater than anyone could have ever imagined. When Downton was originally conceived, it was mapped out across three series.
"But with ratings continuing to reach 11.4 million viewers, our expectations have obviously changed and there is no reason why the show won't run and run, as long as there is still an audience for it."
Hear that? So long as you keep watching it, they'll keep making it. Deal?
Read More
Filed Under: