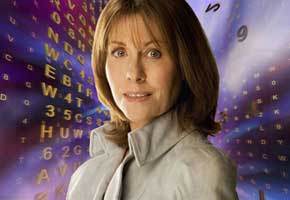 The 26-year-old daughter of late Doctor Who companion Elisabeth Sladen has offered a rare look at her mother in an interview. Sadie Miller tells the Radio Times, "I've come to realize how important Mum was, as Sarah Jane, to a lot of people, but to me it's still a very small corner of my life with her."
Sadie does share some memories of popping by the Doctor Who set. "I was the lucky child who got put inside the Daleks and got to meet the Doctors.
"I liked Jon Pertwee a lot. Mum would put little frilly socks on me and Jon would point at them and tell me my knickers were falling down. I remember Tom Baker, too. I don't know if I've met 'Tom the man,' though; it was always 'Tom the character.' The last time I saw him, he and Mum were doing voiceovers for a Who DVD and he asked me if I'd like some money!"
• Also over on the Radio Times site, hardcore David Tennant fan (and professional journalist) Laura Pledger admits that she's really grown rather fond of Matt Smith, over the course of his two series' as the Doctor. Definitely worth a read if you're feeling similarly conflicted.
• Laura also pulled together a list of the 10 best star guests the show has had since it relaunched in 2006. But fails to mention Kylie Minogue. Surely some mistake?
• Doctor Who has been nominated for "Best TV Show" at the SFX Sci-Fi Awards. You can vote here.
• POTENTIAL SPOILERS IF YOU HAVEN'T SEEN THE SEASON FINALE: a very bearded Arthur Darvill weighs in on "The Wedding of River Song," including an "emotional" scene between the Doctor and Ms. Melody Pond.
Oh, and you'll want to have watched the season finale before checking out this Doctor Who Insider:
And of course, here's the 13-minute Doctor Who Confidential, featuring the cast in all their eye-patched glory:
• Who are Doctor Who's "hidden heroes," the unsung characters and behind-the-scenes folks who make the show what it is? Steven Moffat, Matt Smith, and Karen Gillan reveal their choices to the Radio Times.
• And if "The Wedding of River Song" has left you feeling a little bereft, stand firm. From October 31st you can download a new digitally animated adventure game from the Doctor Who website, based around Guy Fawkes and his plan to blow up the British Parliament in the 1600s. The voices of Matt Smith, Karen Gillan and Arthur Darvill will be joined by Ralf Little, who plays Guy, Phil Daniels as the Town Crier and Emilia Fox as the 14th Plotter. And best of all, it's free!
• This week's companion is Adric, the teenage math wizard without an overabundance of social skills: "Cometh the hour, cometh the geek, and Adric sets to work, finishing in good time to save the day. But does he? No."
• Matt Smith has a wish list for celebs he'd like to get into the TARDIS. "Whoopi Goldberg would be a great companion wouldn't she? Yeah, she'd be great. Also I'd love Eric Cantona or Colin Firth," he told BANG Showbiz via Metro.
"Colin Firth would be great but he would not do it. God, when I think about it there are so many people I would love to get in it."
Are we sure that Mr. Firth wouldn't be interested? There was all that talk about Firth was up for playing a Who baddie?
• The Guardian has ranked the episodes of Season Six. Their favorite? "The Girl Who Waited."
• Radio Times has interesting figures on Doctor Who audience in the UK: Matt Smith's viewers are younger than Christopher Eccleston's, while the Ninth Doctor's viewers were more working-class.
• Arthur Darvill is glad the writers have finally given Rory a bit of breathing space, what with all the constant dying and stuff: "Rory dying has become a running joke for Stephen and the writers, but I'm glad that has stopped happening recently." (via What's On TV)
• Have you submitted your entry to BBC America's Costume Contest? All you need to do is send in a photo of yourself dressed as your favorite BBC America show character, couple, monster or villain, and of course, we know Doctor Who will be well-represented. (And if you need a refresher on your Who cosplay, check out our "How To Dress Like the Eleven Doctors" guide.) Whoever gets the most votes in each category will win a $50 gift certificate to the BBC America Shop! Click here to enter.
• BBCAmerica.com has already received some choice submissions, including this one from Holly from Savannah, Georgia. She and her boyfriend Tim dressed up as Rose Tyler and the Tenth Doctor.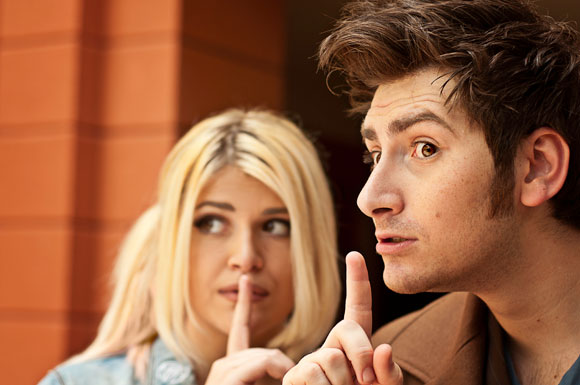 Holly writes, "Tim and I met at DragonCon 2009, where he first introduced me to the series, thus bringing me into the two loves of my life!" She adds that their "collection of their outfits" includes costumes from "every episode from Series Two" and that they've been "frequently been mistaken as David [Tennant] and Billie [Piper] (to the point of people coming up to grab pictures of Tim in theme parks and other public places)."
• Meanwhile, Amy from Florida has already caused quite the stir on the BBC America Facebook page with her spicy, handmade take on a Dalek. "Who doesn't want to be a bad ass yet sexy intergalactic bad guy?!?!?"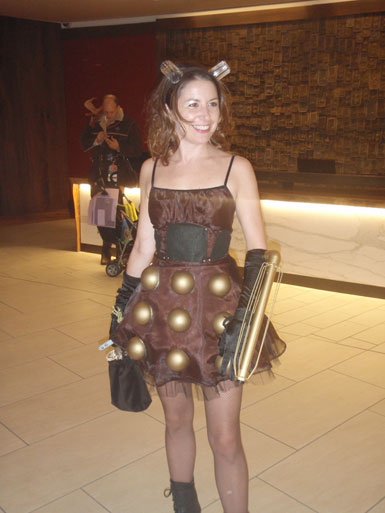 • Where might you have previously seen (or heard) Frances Barber, who played Madame Kovarian, the eye-patched villainess in this past season of Who? Well, if you're a Pet Shop Boys fan, you might recognize her trademark rasp: she starred in the techno duo's 2001 musical, Closer to Heaven, and lent her pipes to their song "Friendly Fire." Watch her in action below.
http://www.youtube.com/watch?v=NiCbhlaKNBo
Read More
Filed Under: