Edward de Vere, 17th Earl of Oxford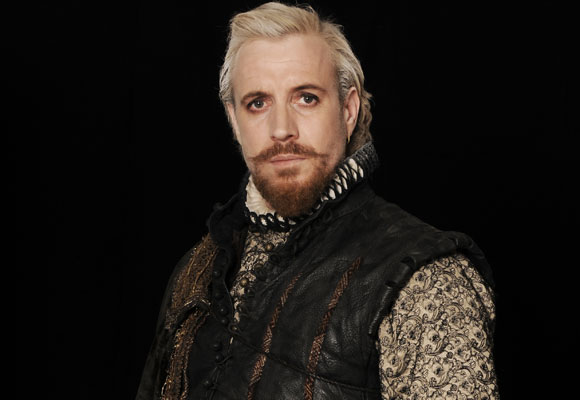 Edward de Vere, 17th Earl of Oxford (1550 -1604) was a relatively late entrant into the Shakespeare authorship wars, but for the past nine decades, Oxfordians, as they've come to be known, have presented the dominant challenge to Stratfordians, that is, to those who believe William Shakespeare wrote his own plays.
The candidacy of the Earl of Oxford was first proposed in 1920 by the unfortunately named J.T. Looney (though it's pronounced "loney") in his book Shakespeare Identified. Since then, the case for de Vere's authorship has been bolstered by famous supporters such as Sigmund Freud, as well as by the formation of Oxford societies on both sides of the Atlantic, including one formed by a descendent of de Vere himself.
Now, with the movie Anonymous, the argument for the Earl of Oxford is getting the big screen treatment.
Actually, it's not the first time the theory has been mentioned on the big screen. Although it's just a few lines, Oxfordians like to argue they received support from Shakespearean actor Leslie Howard in a movie he made in 1941.
Oxfordians argue that de Vere was highly educated, trained as a lawyer (which they say explains the plays' ease in dealing with legal matters), and well-connected to the theatrical world. They say that he was not only well-traveled, but he made trips to exactly the locations that are used as settings in Shakespeare's plays.
For example, de Vere was famously kidnapped by pirates in the English Channel who then left him stripped naked on Denmark's shore. Oxfordians, who say there are many clues in Hamlet that point to de Vere's authorship, point out that Hamlet describes himself as "set naked" in the kingdom after he encounters buccaneers. They further say that Hamlet's tangle with pirates is nowhere to be found in any of the written sources of the play.
Or there's this fascinating tidbit: de Vere's brother-in-law once wrote a letter to de Vere mentioning a banquet he attended with two courtiers named… Rosencrantz and Guildenstern. Those letters, Oxfordians contend, were private.
In fact, Hamlet is pretty much an ur-text for Oxfordians, with each of its characters standing in for a real-life figure in Elizabeth's court. According to this view, Polonius is in fact William Cecil, Lord Burghley, trusted advisor to Queen Elizabeth I, who herself would be represented as Queen Gertrude, a none-too-flattering comparison that would likely have condemned its high-born author to death.
This interpretation would also suggest that Polonius's daughter Ophelia is Lord Burghley's daughter Anne, who married… wait for it… Edward de Vere, the Earl of Oxford.
Which of course would mean that Hamlet was really a disguised Earl of Oxford and that the play would have been both autobiographical and treasonous.
Hence the need to hide the identity of its true author.
"Once you understand Hamlet as an expose of Elizabeth's court, with Shakespeare himself as the hero," says Charles Beauclerk, a leading Oxfordian who is also a direct descendant of de Vere, "you realize that it would have been impossible for William of Stratford to have written such a satire and survived to tell the tale."
It also would mean that the entire play of Hamlet could perhaps be said to function just like its own famous play-within-a-play. (A play-within-a-play-within-a-play?)
Oxfordians say de Vere was one of Queen Elizabeth's favorites – and, some say, much more, which would also explain the need to cover up his authorship. Some say de Vere and the Queen fathered an illegitimate son; others go even further to argue that de Vere was Queen Elizabeth's illegitimate son, who then had an incestuous relationship with the so-called Virgin Queen, the result of which was another illegitimate son. These theories, by conflating Shakespeare's authorship with the problem of Tudor succession, raise the political and historical stakes by turning the argument into a question of political conspiracy: according to this twisted family history, both de Vere and his putative son had more of a claim to the throne than James I, who succeeded Elizabeth.
The Oxfordian authorship theory has also had the distinction of being the subject of arguments before Supreme Court justices in a famous moot court argument. Here's an excerpt:
You can see the whole argument on C-SPAN's website. Just like real cases before the Supreme Court, this one left advocates on both sides trying to spin justices' opinions and claim victory.
NEXT: The case for Shakespeare himself
Read More
Filed Under: