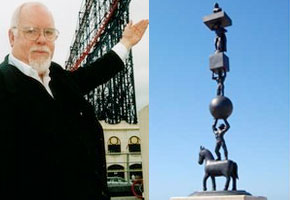 Times are hard in Blackpool, Lancashire. So hard, in fact, that some enterprising thieves have made off with the top half of a bronze statue by Sir Peter Blake, the artist who designed the cover for the Beatles album "Sergeant Pepper's Lonely Hearts Club Band," among many other things.
Life As A Circus was created in 2004. It's two similar statues, depicting four figures, standing on each other's shoulders in a big tower (or standing on shapes, carried by the person below), all balanced on a horse's back. Sadly, the thieves attacked one of the pair, making off with three of the figures and leaving just one solitary acrobat and his (probably relieved) steed.
Sir Peter told BBC News: "It just is so silly to steal something just for the value of the bronze. You wouldn't get a lot for it. So it's such a daft robbery."
Now, with Sir Peter's agreement, Blackpool Council are going to re-cast both statues using cheaper, easier to repair metal-coated concrete, to try and prevent a similar incident.
He explained: "Having been damaged once, I suspect it would happen again. So I think it's probably the best thing to do."
The rest of the original statue (and it's twin) have been taken into storage and will be displayed in a more secure location.
Read More
Filed Under: