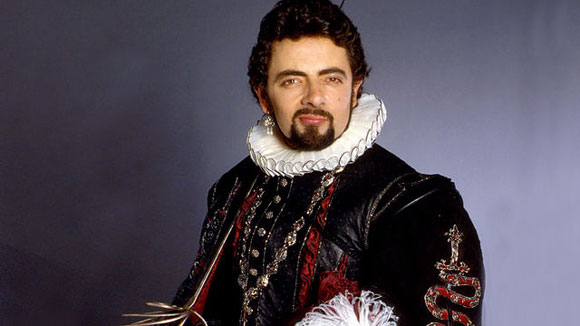 Rowan Atkinson returns as the crack secret agent in Universal's Johnny English Reborn, which hits theaters next Friday (October 21). But long before he was a member of Her Majesty's Secret Service, Atkinson was Edmund Blackadder. Well, he played multiple versions of the vulgar, vainglorious chap throughout British history in the classic BBC sitcom, which ran four seasons in the '80s and featured an all-star cast including Hugh Laurie, Stephen Fry, Miranda Richardson, Tony Robinson, and Tim McInnerny.
As a gift to Atkinson fans, Universal Studios is sponsoring a FREE iTunes download of Blackadder II, the season set in Elizabethan England. Did we mention that it's download-to-own, not stream or rent, meaning you can take all six episodes on a long car ride and guffaw yourself silly at moments like the ones below? That's generosity at its finest.
CLICK HERE to download your free season of Blackadder! (Offer only available until October 21.)
Here's Blackadder getting marvelously blasted, throwing zingers at some visiting family members, and spouting memorable lines like, "There's an ostrich feather up my bottom because Mr. Ostrich put it there to keep in the little pixies!" From Episode 5, "Beer":
Doctor Who fans might not spot a totally unrecognizable Tom Baker (the Fourth Doctor) as the demented Captain Redbeard Rum in this clip from Episode 3, "Potato":
Here's the trailer for Johnny English Reborn. Keep an eye out for both Gillian Anderson and The Hour's Dominic West:
http://www.youtube.com/watch?v=qXQSfSu1Y0s
What's your favorite Blackadder line or moment?
Read More
Filed Under: