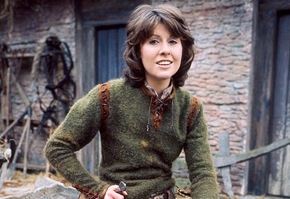 • Doctor Who Magazine has released a 100-page issue featuring tributes to the late Elisabeth Sladen, who played long-running companion Sarah Jane Smith. Interviewer Benjamin Cook has posted exclusive audio clips of Tom Baker, David Tennant, and Matt Smith talking about Lis. Tom Baker's clip is funny, profane, and touching. When asked if Lis ever showed a temper, Tom says, "She was a leading lady. She could be quite brittle about the costume or being rushed from makeup or something like that. She could be really, suddenly, quite chilly. Not with me, but with other people who would try to get a move on."
• The Doctor Who News Page has unveiled cover art for Elisabeth Sladen – The Autobiography. It features a foreword from David Tennant and will be released stateside on December 15.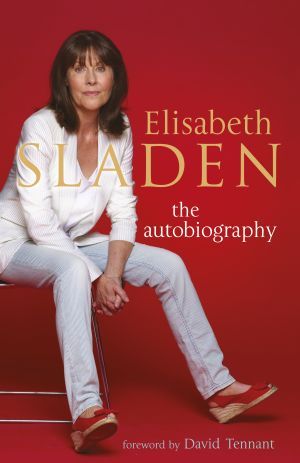 • Anglophenia fave Florence Welch says she wants a Doctor Who cameo. The Grammy-nominated songstress confessed to BBC Radio 1 Newsbeat that she's a "total geek" for the series and that she'd quite fancy being a monster. Um, yes PLEASE!
http://www.youtube.com/watch?v=rYQunIrykEI
• The Doctor Who Fan Orchestra — who we featured here back in July — has a new number for us die-hard Whovians. Here is "This Is Gallifrey / Vale Decem" in all its glory via CBS News.
• And if you're in the mood to truly Trock Out, here's The Jolly Nerd saluting the Timelord with his thundering guitar tune, "One Million Sunsets." The Hendrix-esque guitar solo at 1:31 is quite impressive.
• Blogger David Weedmark has come up with "Ten Life Lessons From Doctor Who." And we love this list! I mean, "being weird is cool" right? Right on!
• One very creative Whovian will surely be the envy of many… you're going to wish you had this TARDIS movie case, we just know it. (via EPICponyz).
• Y'know those super spooky peg dolls that appear in the "Night Terrors" episode from the second part of last season? Well, they're totally taking over London says BANG! Showbiz (via CTV News). Last Wednesday (October 19), they were spotted at the Brook Green Children's Playground before making their way to the "Doctor Who Experience."
• Steven Spielberg and Peter Jackson, both Doctor Who fans, handpicked Steven Moffat to write their computer-animated The Adventures of Tintin.
• Catherine Tate, formerly Doctor Who's Donna Noble, is set to return to The Office for a recurring role.
• Found via the Doctor Who Tumblr: 11 Timelords band together for one last hurrah. (Thanks to ~Magmakensuke for this awesome mashup.)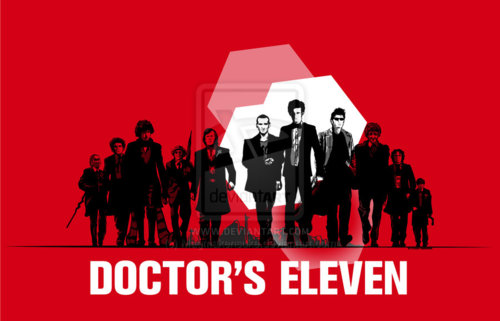 Read More
Filed Under: