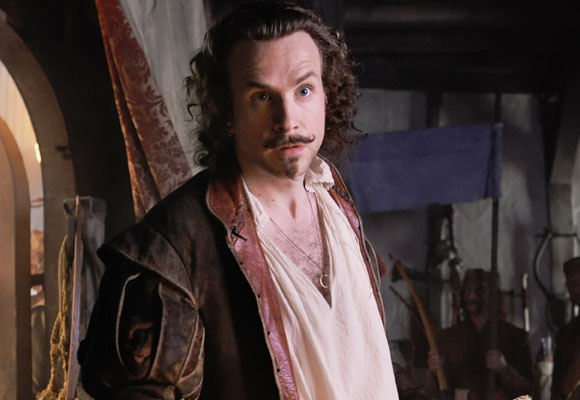 The historical thriller Anonymous is fanning the flames of the age-old debate over whether or not William Shakespeare wrote the works attributed to him. In the film Brit actor Rafe Spall plays Shakespeare but, as I discovered, it's not a portrayal that's going to go over well with those Shakespeare fans who hold the famous Bard in high regard.
TOM: How is William Shakespeare portrayed in this film?
RAFE SPALL: My Shakespeare is a liar, an opportunist, a cheat, a drunken, illiterate actor.
TOM: Well, there are traditional Shakespeare loyalists who really take issue with the way in which he is portrayed. What is your response to that?
RAFE SPALL: My response to that is I understand it, and I respect it, but really it's not about that for me. It's about the work, and the work is what the important thing is, and I don't know why people have such ownership over a man that we know so little about. It is the work that draws us to him. It isn't this guy. It is the brilliance of this extraordinary body of work, and what we do in this film is that we don't knock him off his pedestal. We raise it, because we put these plays in a political context, in a context of the time, and I think whoever wrote these plays, whether it be William of Stratford, Francis Bacon, Edward de Vere, or a group of people, they would look on [this film] with a smile, because it is telling a story. It is asking questions, and that's what those guys did, and that's what it's all about.
TOM: And for you as an actor, how much of an inspiration has Shakespeare been for you with your work?
RAFE SPALL: Well, it permeates our lives constantly. It's part of our fabric, of our cultural fabric. It's part of what makes us "us." It's a matter of inspiration. [Shakespeare] is a thing that I think all actors need to do, because it is an extraordinary thing, and that is so open to interpretation that you'll get a hundred different actors playing Hamlet, and they'd all play it completely differently though they're all doing the same words. I think he is unlike any other playwright.
TOM: The film is put together so it does actually create a very compelling story. Do you think it could actually make people interested in Shakespeare who wouldn't normally think of picking up one of his plays?
RAFE SPALL: I think that's one of the most successful things that we could get out of doing this film. If [we could attract] people who weren't necessarily interested in Shakespeare because they think it's not for them. People think that Shakespeare is too tough for them. It's for other people, when actually when Shakespeare wrote these plays, he wrote them for everybody. Going to see a Shakespeare play in Elizabethan times was what going to a football match is now. You'd have beers. You'd shout. You'd get drunk. You'd eat junk food, and you'd have a great night, you know, and that's what Shakespeare intended his plays to be, and in my mind, there is no reason why they shouldn't be like that anymore. So if people can look at these plays with that viewpoint, then I think we've been successful.
Read More
Filed Under: