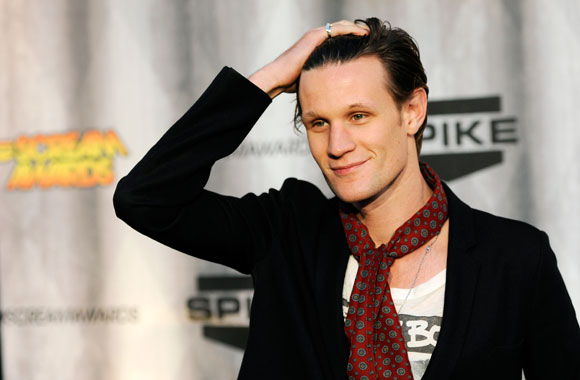 Matt Smith is becoming a fixture on The Late Late Show with Craig Ferguson, appearing on last night's episode to discuss his recent win as Best Science Fiction Actor on Spike TV's Scream Awards. He describes the trophy he received as a "big spikey thing… it would be a very lethal weapon." He also chats about filming the Christmas special and his campaign to get Mr. Craigy Ferg himself on the series. And yes, he's wearing a bowler hat. The next stage of Timelord headgear?
• Karen Gillan is making her West End debut opposite Tony winner Douglas Hodge in a production of John Osborne's Inadmissible Evidence. Apparently, seats at the Donmar Warehouse have sold out, which The Daily Telegraph attributes to the "Doctor Who Effect." Gillan plays a short-lived but pivotal role as secretary to Hodge's angry, middle-aged lawyer and gets "one massive amazing showdown scene" before exiting in "flames of glory".
She tells the Telegraph: "I'm completely terrified. But that's what makes it exciting. When Matt [Smith] and Arthur [Darvill, who plays Amy's husband Rory] heard I had a part at the Donmar they were so pleased. They were, like, you've got to grab this with both hands. So that's what I'm going to do."
• Matt Smith has revealed that he'd quite like to change his Doctor outfit.
He told the Telegraph: "I had some input initially with the bow tie and tweed," before admitting he has a hankering for something in leather, "that would be good." Like Christopher Eccleston's well-worn coat, perhaps?
• Aussie musical comedian Tim Minchin performed the Doctor Who theme at the BBC Comedy Proms a few months back. On a keytar. While wearing a Prince Charles mask. One YouTube fan wrote: "This is the single greatest act of human achievement ever accomplished." Well, maybe second only to the polio vaccine.
• As Doctor Who TV alerts us, the BBC has uploaded some extended content from the season finale to YouTube.
Here's Mark Gatiss in the makeup chair, being fitted with prosthetics to play Gantok:
Here some backstage footage of Gatiss sinking into that horrifying pit of skulls:
• And if you're at a loss what to do in the long months between now and the Doctor Who Christmas Special – and worse, stuck for present ideas for Christmas, why not take up the noble art of crochet? You can make your own Eleventh Doctor and Amy Pond, or your own Tenth Doctor (easy ladies, he's only made of wool), or even a very, very cute Ood. Just look!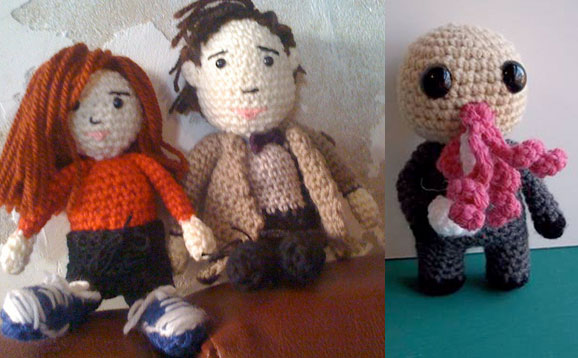 Read More
Filed Under: