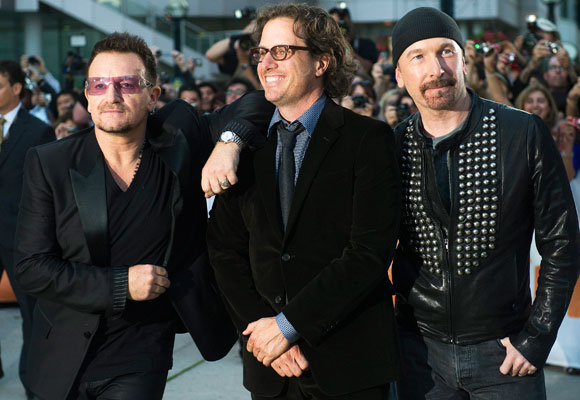 Bono and The Edge were the big attraction last night at the opening of the Toronto Film Festival as they walked the red carpet to launch the U2 documentary From The Sky Down.
The film — put together by American director Davis Guggenheim — revisits a crucial moment in U2's history: the making of their 1991 album Achtung Baby in Berlin.
Bono sees it as a pivotal time when U2 reinvented itself: "The reason we're still here as a band is because we went through that moment in Berlin in 1991, where we ended all that people loved about our ban  and began afresh and risked it all and made Achtung Baby."
The film makes use of animation, archival footage, and contemporary interviews. It shows U2 returning to the Berlin studios where they recorded Achtung Baby twenty years ago.
Bono says: "We don't look back as a band. We really don't. This was a moment we forced ourselves to look back. In a funny way it's the reason we're here now, that album." (WATCH INTERVIEW BELOW.)
Filmmaker Davis Guggenheim, who directed the Oscar winning documentary An Inconvenient Truth, was given free rein to make From The Sky Down.
Those who've seen the film maintain there isn't much in it that might seriously tarnish the U2 brand: there are no uncomfortable references to recent criticism of U2's alleged arrangements to enable them to avoid taxes in Ireland.
But the documentary does reveal the good and the bad about the band, Bono says: "You know, [it's like] sausage making. If people saw what went into it, they wouldn't eat it. This [documentary] is bangers 'n' mash."
From The Sky Down marks the first time in its history that the Toronto Film Festival has opened with a documentary.

Some videos from U2's Achtung Baby album – which is your favorite?
Read More
Filed Under: