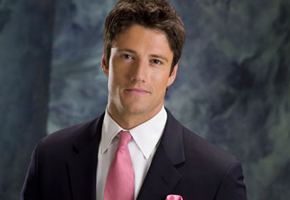 Even a medium as all-American as the daytime soap can claim its own British Invasion. Back in the early '80s, when the popularity of Luke and Laura made action adventure plots de rigueur, soaps finally acknowledged a world far beyond the gossip and intimate dramas of America's kitchens and sewing rooms, and characters with "funny accents" became commonplace.
As today marks the end of the 41-year television run of All My Children, we examine six British characters who have turned up on American soaps.
Sabrina Fullerton, As the World Turns
Before Julianne Moore scored an Oscar nomination for Boogie Nights, she played American girl Frannie Hughes and her long-lost British sister Sabrina. (Shades of The Parent Trap there.) Sabrina was mousy and outwardly timid but beneath the English reserve, she was quite saucy: she formed a bond with Frannie's salt-of-the-earth fiancé Seth Snyder, and one night, Seth mistook Sabrina for Frannie. (If you've ever watched a soap, you know what happens.) Moore departed As the World Turns for Hollywood in 1988, and Sabrina left Oakdale with her. (The part was later recast.)
Moore's work in those dual roles won her a Younger Actress Emmy, but she has certainly come a long way from those green, lean years in daytime:
Jenna Bradshaw, Guiding Light
Dripping in diamonds and cloaked in ermine furs (with little underneath), British jewel thief Jenna Bradshaw slunk her way into Springfield in the early '90s with the town's wealthiest family in her sights. A thoroughly entertaining vixen, she was eventually saved and sadly domesticated by the love of a good man, greasy spoon owner named Buzz Cooper, before she was killed off in one of the most amusingly low-budget car crash scenes ever filmed.
Born to two British parents in the U.S., actress Fiona Hutchison previously perfected an English accent, oddly, playing Argentine-born Gabrielle Medina on ABC's One Life to Live.
E.J. DiMera, Days of our Lives
Baby drama – switched-at-birth stories, "Who's the Daddy?" plots – is a soap staple, but what happens when those little ankle biters become pre-teens, too young for the sex and scandal stories that are daytime's bread-and-butter?
Problem solved: enter SORAS (Soap Opera Rapid Aging Syndrome), in which a 5-year-old schoolboy shipped off to boarding school returns eight months later as a 6'1″ 19-year-old with a Bally's membership.
One of the more egregious examples of the phenomenon: on Days of our Lives, baby "Elvis" (don't ask) was born in 1997, disappeared shortly thereafter, re-emerging nine years later as E.J. DiMera, a twentysomething villain with a posh British accent. Thankfully, viewers were too busy swooning over E.J.'s new portrayer, Newcastle native James Scott, to care.
Here's E.J. being very naaahsty:
Shane Donovan, Days of our Lives
With the adventures of General Hospital's Luke and Laura pulling in tens of millions of viewers in the early '80s, competing soaps were desperate to claim their own action heroes and heroines. In 1984, Days introduced Shane Donovan, a suave 007-type played by Charles Shaughnessy (long before he was Mr. Sheffield to Fran Drescher's nanny). Shane fell in love with Kimberly Brady, a fragile former prostitute, and their romance was a Reagan-era sensation.
Carl Hutchins, Another World
The Accent of Evil isn't just for the big screen: in 1983, British bad guy Carl Hutchins, wearing a frosty ponytail and sometimes literally twirling his mustache, came to Another World's Bay City with a vendetta against the upstanding Cory family. His many dastardly deeds included murder, poisoning, kidnapping, corporate sabotage – you name it, it was on Carl's rap sheet. But he was soon reformed and even embarked on a late-in-life romance with Cory matriarch Rachel, a woman whom he had once shot in the head.
Charles Keating, who won an Emmy for playing Carl, is a truly great thespian and played the role with Shakespearean flair:
Anna Devane, General Hospital
You might know British actress Finola Hughes as Blossom's step-mum or John Travolta's love interest in Staying Alive. But between those landmark roles, Hughes was secret agent Anna Devane on General Hospital, and she remains best-known for that part to this day. Tough, fetching, maternal, and witty, Anna became the show's leading action heroine in the mid-to-late '80s, replacing GH's earlier British lead, Emma Samms as Holly Scorpio.
Hughes more than earned her wages selling ridiculous plotlines on GH. In one bizarre arc, Anna helps a hunky alien find a crystal that's his key to returning to his home planet. The story produced funny scenes like this one, in which Casey the alien walks in on Anna in the shower, forcing her to teach him a few things about human sexuality (no, not like that, you pervs):
Who did we miss? Tell us here:
Read More
Filed Under: