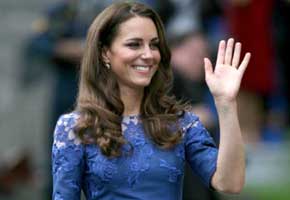 As New York Fashion Week begins, The New York Times predicts that Kate Middleton's impact will surely be felt on the runways, "if not in any literal sense, then surely as a state of mind." The paper quotes Ed Burstell, the managing director for Liberty of London, who said, "We are in a Kate moment." He expects New York to succumb to the "Kate effect," where "everyone wants to look like her, to act like her, to be her."
The Times quotes a number of designers. Rachel Zoe, who says that Kate Middleton represents a return to classicism, will show clothes with "Saville Row-style" tailoring. Jason Wu says he believes the trends will be more refined and that "the duchess is part of that." Tommy Hilfiger, who will apparently go heavy on the plaids, says Kate "will influence all markets."
"There's nothing trashy or vulgar about her," said  Vogue stylemaker Anna Wintour. "She dresses her age and never looks out of place."
Although she's now the new face of royalty, one consumer analyst suggested that the tasteful, restrained Kate is particularly attractive in a time of troubled economies. "Designers feel they have to be reactive, to provide consumers with less risk," said Marshal Cohen, of the consumer research firm NPD group. "When they see an influence like Kate, some of them will jump all over it, if only to validate what they are already doing."
In other royal related news:
• Buckingham Palace has seen record numbers of visitors over the past weeks − thanks to the display of the Duchess of Cambridge's wedding dress.
More than 354,000 people have visited the special exhibition since it opened on July 23 — a 20 percent increase over visits to the Palace last year. By the end of the special show, ticket sales are expected to reach £8 million ($12.8 million). Proceeds are to go to William and Kate's wedding charity fund as well as to the upkeep of royal properties, such as castles, and art collections.
Buckingham Palace was first opened to the public in 1963, as a way of raising money to pay for a restoration of Windsor Castle, but the Palace is only open for visitors in the summer, when the Queen lives at Balmoral in Scotland.
The wedding dress exhibit will close on October 3, when public tours of the Palace will also end. (via The Daily Mail)
• Land Rover gave Kate and Will a car as a wedding present. But Since royal protocol calls for most wedding gifts not given by close friends or family to be donated to charity, the couple gave it to a mountain rescue team in Britain's lake district.
"The vehicle will be greatly appreciated," said Keith Montgomery, honorary secretary of Glossop Mountain Rescue Team, who said that his organization would otherwise have had to raise the £45,000 ($72,000) needed to replace their ailing rescue vehicle. (via Sky News)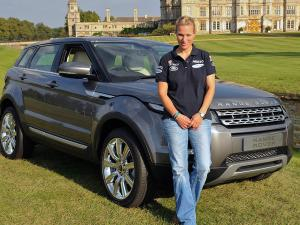 • It seems as though the royal family is awash in Land Rovers. Zara Phillips yesterday became the very first owner of an Evoque, which is the brand's newest model. "I grew up around Land Rovers and I've been an ambassador for the brand for several years," Zara said as she was presented with the metallic grey car at the Burghley Horse Trials — that's the Land Rover Burghley Horse Trials, where she came in tenth place. "The new Evoque looks absolutely fantastic, and I love being the first person to get one!" she said. The Evoque should arrive at UK dealers tomorrow, with commoners able to get their cars on Friday. (via IOL Motoring)
• The Duchess of Cornwall has been promoting poetry and gardening, two pursuits for which the English are renowned.
Today, Camilla visited a school in north London, where she read one of her favorite poems, Robert Burns' "My Heart's In The Highlands." "This poem is very evocative for me," the Duchess said. "I am very fond of the Highlands as I have spent a lot of time there." Camilla was joined by England's Poet Laureate Carol Ann Duffy to launch a project called Anthologize, in which students put together collections of their favorite poems. (via The Press Association)
Yesterday, Camilla, an avid gardener, went to south London to view the work of "guerilla" gardeners, who transform neglected urban spaces in green parks. She said the work of the movement was "fantastic." At one urban farm, one of the volunteers apologized for his dirty hands, and the Duchess responded: "Don't worry about that, I'm used to it. I'm a gardener." (via The Daily Mail)
Read More
Filed Under: