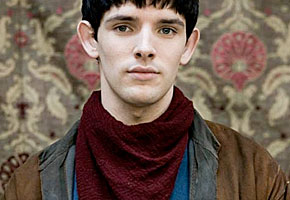 Don't you just love the fall TV schedules? One more week of Doctor Who to go (and a Christmas spesh to look forward to), Downton Abbey is back, Spooks is back, and now Merlin is about to make a triumphant return to British screens.
Well maybe triumphant isn't the word. Now that Morgana's power is increasing, Merlin's looking more and more worried, almost as if he know's she's going to try and summon the mighty Callieach to tear open the veil between the worlds. And things are going to get worse before they get better.
Merlin season four will hit the SyFy channel in 2012.
Here's a few other things which are going on as of right now:
• Two Adele fans who had accidentally bought fake tickets for her London shows this week, as an anniversary present, were delighted to discover that they could still get in to see the concert, after Adele gave them two real ones. AND she said hello from the stage. (via Digital Spy)
• There's a full trailer for series 5 – the final series – of The Sarah Jane Adventures on the CBBC website, as of right now.
• Speaking of whom, y'know that scene in Waynes World when Wayne goes to the music store, picks up his dream guitar and tries to bash out "Stairway To Heaven," only to be told off? Well that's what happening in piano stores right now, only instead of Stairway, it's any song by Adele. Denied! (via NME)
• Alfred Molina has praised Twilight star Taylor Lautner for the way he handles his business: "Actors my age then would just be asked to turn up. They never asked me to work out and get a cut body, work on my abs. I was impressed with Taylor's understanding of the game. He shows a sophistication about the industry which I certainly didn't have when I was younger." (via Female First)
• Hugh Laurie says that the departure of Lisa Edelstein from House has given the show "a strange sort of jolt of energy." Kind of like a defibrillator? (via Shropshire Star)
• Helen Mirren says a certain picture of her on holiday, wearing a red bikini, will "haunt her forever." (via This is London)
• Gordon Ramsey has secured a new series on Fox called 'Hotel Hell,' in which he travels the land telling off hotel owners who are doing a bad job. It's an interesting way to make a living, that's for sure. (via CNN)
• And finally, let's end things on a spooky note, with the UK trailer for Dream House, the new Daniel Craig / Rachel Weisz movie. It's got new bits in.
Read More
Filed Under: