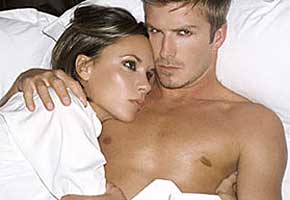 We're well used to the idea that celebrities fiercely guard their privacy at times of high public interest, like when a child is born into their family. But did you know that part of the reason Victoria Beckham wasn't seen much when little Harper was first born was because she'd hurt her back?
Apparently she suffered an injury during labor, thought to be a slipped disc, and this made the early days of Harper's life very hard going, not least because Victoria couldn't hold Harper long enough to feed her.
And being the dutiful father that he is, David had to prop the both of them up.
He told the Mirror: "It was obviously very uncomfortable for her because feeding Harper was very difficult and so was picking Harper up. But she's great now."
Oh and he still clearly has little cartoon hearts popping out of his eyes where his daughter is concerned: "We've got three amazing boys, but there's a lot of energy with them. With Harper, she's so calm, she's so ladylike.
"She is three months old. Everything she does is a milestone – the way she holds herself, the way she breathes, the way she smiles. It's just – it's amazing."
Daw!
Here's just a selection of the other wondrous events which are going on all over the world at the moment:
• Rowan Atkinson has once again refused to totally rule out the possibilty of a fifth series of Blackadder, although he has also comprehensively failed to rule it in either. He told ITV's Daybreak: "I mean it could be reprised in some form or other, but generally speaking The Blackadder seemed to work best when there was a sort of claustrophobic world and a hierarchy. So if you can think of any situations in which they are dominant – then I think there is a possibility of a fifth series." (via Gigwise)
• Russell Brand will be the first guest on Rosie O'Donnell's new chat show. (via BBC News)
• Being a famous actor with a young family has got to hurt sometimes. You jet off  to location shoots for weeks on end, somewhere remote where there's no wifi, meanwhile the kids are learning to walk and talk without you. Paul Bettany knows this, and has a cunning solution, make a pact!
He told the Guardian: "I have a rule that we'll never go more than two weeks without seeing each other."
This came after he got so lost in family life that he forgot what he did for a living, a feeling he's only just emerging from: "I've rekindled a love for making movies that had been made totally irrelevant by the complete, mad, romantic love you feel for your children,"
• If you're a fan of indie rockers British Sea Power (and you should be), you'll be wanting to read this extract from the book  Do It For Your Mum – One Band, One Dad, One World War: A story of British Sea Power, Rock Dreams and Family Farce, by two of the band's brother and former manager Roy Wilkinson. It's an enlightening read.
• I smell brand synergy! Cheryl Cole is apparently deep in talks with Justin Bieber about collaborating on a song for her third album. (via Digital Spy)
• Meanwhile, Dannii Minogue, sister of Kylie and former UK X Factor judge, has admitted that being Simon Cowell's panel-buddy is a little like riding a bucking bronco, everyone comes off eventually. But she's got nothing but love for Cheryl: "She was always there as a support for me when I had tough days because it is a tough show. It does eat all of us up and spit us out at the end." (via STV)
• Rihanna did not call Belfast "a slum," when she played a concert there, OK? (via Entertainmentwise)
• At the BT Digital Music awards last night, Jessie J won three gongs, Best Female Artist, Best Newcomer and Best Song for "Price Tag." However, the year-before-last-year's X Factor runner up, Olly Murs won Best Male Artist, so maybe it's not such an honour after all… (via Digital Spy)
• And finally, let's go out with a happy song, to start the weekend with a spring in our collective step.
OK, maybe the happiness and spring is a bit much to ask, but here's Susan Boyle covering Depeche Mode's "Enjoy The Silence" as if it was "Run" by Snow Patrol, as covered by Leona Lewis.
Try and still have a great weekend though, y'hear?
Read More
Filed Under: