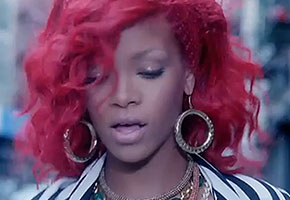 Once upon a time there was a pop star called Rihanna, and she wanted to make a video for a song. She looked all over for the perfect place to film it, and decided that a field of corn in Bangor, Northern Ireland, was the perfect spot. So she asked her people to make arrangements with the farmer who owns the field, and that was that.
On the day of the shoot, however, Rihanna was surprised to find her performance interrupted by the farmer (and DUP Alderman), whose name is Alan Graham. Alan had been passing by to collect his tractor, and didn't like the clothes that she was very nearly wearing.
"I thought it was inappropriate. I requested them to stop and they did," Alan said to BBC News.
"I had my conversation with Rihanna and I hope she understands where I'm coming from. We shook hands."
The farmer didn't know that Rihanna was one of the biggest pop stars in the land, with thousands of fans who all came out to see her, lining the road alongside his field. He found this to be a little confusing: "I didn't know who was coming. If the name 'Rihanna' had been mentioned, well, no disrespect but it wouldn't have meant anything."
But he stopped the filming then and there, insisting that Rihanna put some clothes on, before she caught a chill:  "From my point of view, it was my land, I have an ethos and I felt it was inappropriate.  I wish no ill will against Rihanna and her friends. Perhaps they could acquaint themselves with a greater God."
And they all lived happily ever after.
Here's what else is happening to the world in which we live today:
• We wish to bring your attention to a wonderful facet of British cultural life, one which is sadly threatened by a dwindling audience. The Dandy comic, once a childhood staple and home of British comic book heroes such as Desperate Dan and Korky the Cat, is under threat. And the fearless anoraks over at Den of Geek have been investigating why. Please give generously of your time and attention. Message ends.
• Simon Cowell has pointed out that TV is what makes pop stars pop stars: "If you only ever heard Lady Gaga, she's the most boring singer in the world. You've got to see her – you need TV. Same with Beyonce. Or Katy Perry. We're all about image. You have to have that X Factor."
And this is the reason why none of his TV talent shows would work on the radio. (via the Mirror)
• The Royal Shakespeare Company is producing a series of performances of Shakespeare plays called Globe to Globe, for the 2012 Cultural Olympiad at London's Globe Theater, including Love's Labours Lost performed in British Sign Language, and a hip hop Othello. No details have emerged as to when they'll be performing Hamlet in the original Klingon, however.
• The Radio Times website has been running a poll to find out which is their readers' favorite interview of all time. The winner, by quite some margin, is David Frost's astonishing run-in with Richard Nixon. And as the Guardian points out, it didn't make a bad film either.
• A man from picturesque villagey Suffolk has, with no previous gardening experience, build a one-acre tropical jungle in his back garden. And what's more, the plants didn't all die the last time it snowed. (via Metro)
• David Walliams' Herculean effort in swimming the length of the Thames is still taking its toll. He's ruptured a disc in his back, which necessitated a rush to hospital, and some fairly intense physiotherapy. Here's hoping he gets well soon. (via Contactmusic)
• Straight out of the 'Er…Thanks!' file comes the story of the tribute Pete Doherty has paid to his old Camden drinking buddy Amy Winehouse. At a gig in London this week, he played a song he'd written with her in mind, a song which had been doing the rounds while she was still alive. Before launching into the song, which contains the refrain "oh Amy, she won't be around tonight," he explained: "Amy Winehouse asked me a while ago if I had written any new songs. I played her something, and when I had finished, she looked at me and said, 'Is that it? Is that all you've got?"
That song is now his tribute to her. (via Musicrooms)
• While we're on the topic, and to sing our news gathering to a close, here's Coldplay's heartfelt tribute to R.E.M., which they performed in Atlanta a couple of days ago:
Read More
Filed Under: