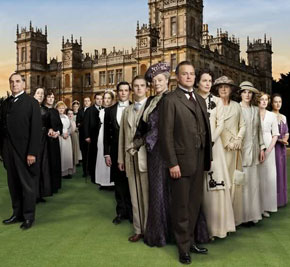 The logistics of making a period drama beggar belief. Whether it's tracking down exactly the right kind of gloves for a formal Edwardian dinner or researching which sugar tongs are appropriate for afternoon tea, there's always room for error, and a shortage of available resources.
So it should come as no surprise to discover that Downton Abbey has made use of gowns and jewelery that have also appeared in other productions. The Sunday Mirror asked Emmy-winning costume designer Susannah Buxton about her work on the show, and discovered which gowns have been worn before, and by whom.
She says they have to make roughly a third of the outfits from scratch, but the rest come from all over the place, especially as some of the fabrics used are no longer in production.
There's the cream dress worn by Lady Edith, which was first worn by Helena Bonham Carter in A Room With A View.
Lady Mary will be wearing a scarlet gown in the new series which was actually created for Catherine Zeta Jones to wear in the movie Death Defying Acts. And she's already worn a black beaded choker that was last seen adorning the neck of Monica Belucci.
Susannah told the Mirror: "I think it's wonderful that the dresses are worn again. It's a marvellous example of recycling – and it would have gone on in real life. It does now, look at the Duchess of Cambridge, she has her outfits remodelled."
The sole exception being Dame Maggie Smith: "She has every single piece made for her – but she is the great lady of the show after all."
And when the costumes are in place, it's up to the actors to make sure they don't get dirty: "Even though some of the ­actresses can't eat in those corsets I also have to urge the men to be careful. I've been known to put bibs on them and make the girls take the dresses off. The men suffer too – those razor-sharp collars are very uncomfortable.
There are only two dry cleaners in the country that can clean the starched shirt fronts – one is used by the Queen. It takes a fortnight so I do not want the actors getting ketchup from the ­catering wagon down them."
Second-hand Edwardian ketchup, naturally.
Here's what else is going on at the moment:
• It seems the best way to get Sir Paul McCartney's attention is to ask him to come up with music for something he's never done before. That's how the choreographer Peter Martins got him to write an entire ballet, "Ocean's Kingdom." He told the Times: "When I started to see more dance and ballet, I was influenced by that and started to write more music that I thought would be good to dance to – specifically, writing expressive music that dancers could get hold of and do something with. It has been a very exciting process." (via STV)
• James Morrison is BACK with new album "The Awakening," out today. He's quite pleased with it, as he tells the Sun: "It's my favourite album and if it doesn't sell as much I really don't care — I can go home and see my daughter and know everything is OK in my life now."
• How does Simon Cowell do it? After watching a series of Masterchef Australia, which had taken a big chunk out of his viewing figures for Australia's Got Talent, he's now come up with an astonishing new idea for a TV show. A cooking talent show! Just like Masterchef! Amazing. (via STV)
• It seems that collaborating with Rihanna on a song does come with certain risks, not least of which is a rabid fanbase who can find you on Twitter and demand that you do a bang-up job, or else. This is what UK dance producer Calvin Harris found out while working on "We Found Love." (via Contactmusic)
• Oh dear. Last year's UK X Factor winner, Matt Cardle, has given an interview to the Sunday Mirror in which he fumes that the runner up act, One Direction, got to release their album before he got to release his. He also calls Simon Cowell "naughty" and then delivers the career-killing final shot: "I'm desperate to shake off the X Factor tag now." OK, bye then!
• Speaking of the X Factor, America, whatever it is you did to Cheryl Cole, she's clearly keen to stick around and make a go of it. All the rumours doing the rounds about her taking up a job on a UK talent show, whether it's the BBC's The Voice or the UK X Factor – have been countered by the rumour that's she's in talks with three different Hollywood production companies in order to appear in three different movies. (via RTE)
• And finally, here's Dame Helen Mirren appearing on The Jonathan Ross Show over the weekend, in which she describes having to learn a bit of Russian for her role in The Debt, how the Phil Spector film is going, and what it's like to work with Russell Brand.
Do svidaniya!
Read More
Filed Under: