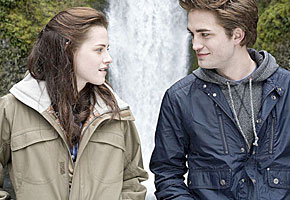 Robert Pattinson and Kristen Stewart are really going at this couple thing, aren't they? Having finally revealed that they're an item, much to the delight of the world's press, Robert whisked Kristen off to the suburbs of London for a tour of the district in which he grew up, namely Barnes.
Local points of interest include his primary school, his old drama club, and, er, the tree Marc Bolan crashed into in 1977. Which is now owned and maintained as a *(cough)* landmarc by the Marc Bolan Society, believe it or not.
An onlooker told the Sun: "It was really sweet, Rob wanted to show Kristen everything about where he'd grown up."
And to prevent a pap attack, the pair got dressed up in blond and ginger wigs. Which begs the question, is everyone absolutely sure that it wasn't just a pair of Swedish tourists who happen to look a bit like the Twilight twosome?
Here's what else is going on at the moment:
Russell Brand has turned out to cheer on the very brave David Walliams, who is swimming the length of the Thames – some 120 miles – to raise money for charity. It's not going very well though, as he's managed to contract food poisoning, possibly from the river water. The insane thing is, he's still going. (via IMDB)
Remember the Prodigy? Remember how terrifying they looked in the video for "Breathe"? Well the one with the cat-eye contact lenses, Maxim Reality, has now started designing crockery, including cups, saucers and plates. (via Evening Standard)
Now, if you'll forgive me a second, I'm just gonna whizz through a series of Simon Cowell/X Factor stories here, just so everyone who wants to keep up to date can get their fix. It's a bitter pill, but hopefully not one that leaves a lingering aftertaste:
• Simon Cowell has asked Take That star (and X Factor judge) Gary Barlow to lose some weight for the live shows. (via STV)
• X Factor bosses have told Jessie J off for revealing that she's going to be a mentor on the UK X Factor on Twitter. And how do we know this? Because she said so. On Twitter. (via Capital FM)
• Simon Cowell regrets telling Howard Stern that he isn't sure if he's still engaged, or that he's had a threesome. Not that this means he now knows whether he is engaged or not, you understand. He just regrets saying it on the radio. (via Contactmusic)
Not that his mum has the first clue as to whether his marriage to Mezhgan Hussainy is going ahead either, but she does think they got engaged too quickly. (via Now)
• Cheryl Cole still isn't talking to Simon, and probably won't now he's blabbed that she was his first choice to be a judge on the first Britain's Got Talent series, but pulled out two days before filming started. Smooth. (via Unreality TV)
• And finally, Simon Cowell has promised that this year's X Factor will not be as sexy as last year, because it's on in the early evening, and loved by children. Last year, Christina Aguilera caused outrage by, well, doing what Christina Aguilera does, all that huffing and puffing. It wasn't seemly. (via Huffington Post)
Read More
Filed Under: