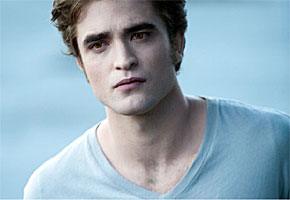 Guitar shops are magical places. There are all of these beautiful, shiny instruments on the walls, and they're all slightly different – Gretsches, Gibsons, Rickenbackers, Fenders – so any self-respecting string-twiddler will find themself entertaining the possibility of owning at least MOST of them, just to have a fully-rounded collection.
Sadly, very few of us have the room, so, even if money is no object, what's the next best thing to buying yourself a nice new guitar? That's right, buying yourself a nice new guitar and another one for the homeless man who is busking on the street outside.
And, according to the Sun, that's exactly what Robert Pattinson did, after a recent visit to a Los Angeles guitar shop. Oh sure, he made sure to get himself a nice new electric, but having spotted the busker outside, hacking away at a tatty old six-string, he came out with a sparkly new red acoustic for him, handed it over, then drove off.
So if you're in LA and you fancy extending your collection, you know what to do…
Here's what else is going on today:
• Vanessa Redgrave has become so intimately involved with the plight of a traveller community in Basildon, Essex which is battling eviction, that she even turned up to their High Court hearing. Sadly the judge still threw the case out of court. (via Orange)
• Manic Street Preachers are planning a two-year hiatus, starting next year. They've got big plans for some themed concerts, featuring all of the singles they've ever released, followed by a big nothing, with a potential new album called '70 Songs of Hatred and Failure' on the distant horizon. (via NME)
• Douglas Adams fans will no doubt be thrilled to find out there's an app in the works which aims to turn your iPad or iPhone into as close a simulation of the actual Hitch-Hikers Guide To The Galaxy (the book within the story, as opposed to the story within the book)  as is humanly possible. It's not quite ready yet though, so don't panic. (via SFX)
• The last series of Britain's Got Talent has only just finished, and there are already news stories doing the rounds about next year's judging panel. Currently top of the rumour pile is David Walliams, who the Mirror claims has been formally asked to replace the eccentric David Hasselhoff.
• There's some more news about a talent show – The Voice – in which Cheryl Cole may or may not appear as a judge. Apparently it all rest on whether Charlotte Church (Cheryl's sworn enemy) is also on the judging panel or not. Oh well, whatever the outcome, I'm sure we'll all cope. (via On The Box)
• Jessie J has been nominated in a hefty five categories at this years MOBO Awards. 'Best Bangs' is not one of them. (via MOBO)
• Madonna is over at the Venice Film Festival right now, showing W.E., her biopic of Wallis Simpson, which stars Andrea Riseborough. So that's a British actress playing an American who marries a member of the British royal family. Set your accent-ometers to stun, people! (via BBC News)
• Liam Gallagher refuses to get wound up by the looting of his Pretty Green store in Manchester, which resulted in the loss of over £270,000 worth of stock: "I wouldn't want it to be happening on a weekly basis, but yeah man, everything's been taken care of." (via Orange)
• And in the spirit of all TV news report "…and finally" stories comes this, the tale of a father and son on a boat trip across Newport Harbour in Wales. An argument breaks out, ending with the seven-year-old boy having a bit of a cry, at which point (according to eye-witnesses) his dad tells him to "toughen up," or he'll be chucked into the sea. A few more wails and sniffs later, and the boy finds himself thrown bodily from the boat, with his dad diving in afterwards to save him. Clearly there's a lesson to be learned here, but I'll be jiggered if I can work out what it is. (via Asylum)
Tell us here:
Read More
Filed Under: