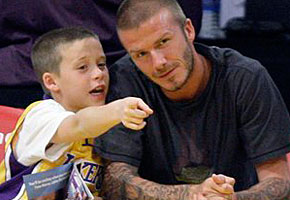 It's not often that there's a crossing of the streams of Brit gossip we like to provide you with, but today appears to be an exception, today everyone appears to be relevent to everyone else, and it all revolves around the Beckham family.
First and foremost is the news (via the Star) that Brooklyn Beckham's 13th birthday party will take place at Alnwick Castle in Northumberland, which as any fool knows, is the exterior set for Hogwarts in the Harry Potter films.
The castle already puts on quite a Potter spread, with their Battleaxe and Broomsticks tour, Broomstick training (which is presumably not just learning how to sweep) and all sorts of house-elfy, Hagriddy wizardry. And that's the stuff the Beckhams want exclusive access to for Brooklyn's big day.
Oh and remember we were talking about the new Kate Winslet movie Carnage? Kate turned out at the Venice Film Festival to promote the film yesterday (apparently there's a very funny vomiting scene), and her dress was designed by…Victoria Beckham.
I tellya, all we'll need now is for Posh to talk to Cheryl Cole on Twitter about Matt Smith and the world will implode.
Oh and speaking of Harry Potter, please don't read Cracked.com's rather literal examination of the 5 Most Depraved Sex Scenes Implied By Harry Potter unless you have a strong stomach. It's a little ripe.
Here's what else is happening today:
• John Cleese doesn't think London counts as an English city any more, as it's becoming increasingly hard (in his view) to spot English faces when showing visiting friends around the capital. He told Australian TV: "London is no longer an English city, and that's how they got the Olympics. I mean, they said, "We're the most cosmopolitan city on Earth," but it doesn't feel English." (via Chortle)
• Colin Farrell (not exactly a Brit, I know) has revealed the trick he used to wean himself off cigarettes. He wrote them a Dear John letter. Speaking to Shortlist, he explained how it went: "I remember the first time we met and all that we've been through together. That time you helped me through such-and-such situation…" and yadda-yadda. It was very much the kind of letter you'd write to a person you were breaking up with. Because that's what it was — a break-up. It was the first time I'd ever broken up via letter, so it was strange."
Apparently the cigarettes took it well, considering.
• David Walliams admits that part of the reason he puts himself through superhuman fundraising events like swimming the English Channel is that it's a kind of cry for help or attention. He said: "I suppose I am thinking to myself, 'What is going to bring me fulfilment in life?' And it's true I go through periods of intense self-loathing. I think that is only human, isn't it?" (via Heat)
• Billie Piper is set to return to the London stage on November 17th. She'll appear in the play Reasons To Be Pretty, by Neil Labute. (via Londontheatre)
• Cheryl Cole's early experiments with Twitter have already gone wrong. She said that bread rolls that have flour on them "go right through me," meaning that they set her teeth on edge. Sadly, most people thought she meant diahorrea.
• Andrew Lloyd Webber is giving something back. The West End composertron has ploughed £1 million into London theatre projects, to make up for the shortfall after recent cuts to the British government's Arts Council funding. (via London24)
• Matthew Rhys has just been signed up by the BBC to appear in their adaptation of Charles Dickens' unfinished novel, The Mystery Of Edwin Drood. He'll play John Jasper, a jealous choirmaster. The production forms part of a celebration what would be Dickens's 200th birthday, in 2o12.
 Have you ever dumped anyone (or anything) by letter? Tell us here:
Read More
Filed Under: