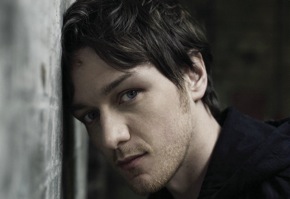 Film biopics of musicians often follow a very similar pattern. There's the childhood trauma, the discovery of talent, the struggling to get noticed, the fame, the drugs, the trouble that comes with success/fame/drugs, and the final redemption (and if you're lucky, a couple of captions at the end to summarise the rest of that person's life and career.
So what are we to make of news reports that David Furnish, husband of Sir Elton John, is putting together a film based on Elton's life, and calling it Rocketman? It'll be written by Eric Hall, who also worked on Billy Elliott with Sir Elt, and clearly there are enough of the ingredients listed above in Elton's life story, especially the struggle bit, and the drugs bit. The tracksuit years will be a new twist, but I'm sure it'll be tastefully handled.
And they're apparently considering skinny, cheekboned James McAvoy for the title role? An interesting choice, wouldn't you say?
There again, no one thought Joaquin Phoenix would make a convincing Johnny Cash until he went ahead and did it. (via Evening Echo)
Here's what else is going on today:
• Tinker Tailor Soldier Spy has opened in cinemas across the world to almost universal praise, as you'd expect from any dramatic endeavour which features the work of Gary Oldman, Colin Firth, Toby Jones, Benedict Cumberbatch, John Hurt etc. However, one voice has been raised in protest against the film, and it comes from Dame Helen Mirren, who is aggrieved that there were no significant parts for women in the film:
She told the Times: "How many women were in that? I mean, come on. There weren't any women in the Seventies? The secret service always had a huge number of women working for them. And they played major roles in real life. But they were ignored for this film." (via New)
• Geri Halliwell has confused Now magazine by turning up to "some posh bash" in a wedding dress.
• Internet reports that David Beckham had been killed in a car crash were proven to be slightly wide of the mark yesterday, when he took to the pitch for an LA Galaxy game. (via Now)
• Fancy getting something hideously expensive for the special lady in your life? Elizabeth Taylor's diamonds are up for sale in London. (via Coventry Telegraph)
• Amy Winehouse will be honored by her former school, the BRIT Academy for performing arts, as it's most successful pupil, in a ceremony this week, which celebrates the school's 20th anniversary. (via Yahoo)
• In a scene which could have come straight out of Top Gear, four British men were recently stopped by German police for driving a car which is shaped like a pirate ship along the autobahn. The Black Pearl is a modified truck with wooden panelling, a wheel and a mast, but it comes with documents that attest to its safety, so after questioning, the piratical foursome were released without charge. (via Metr0)
• And finally, here's my favorite exchange from a recent Huffington Post interview with Ricky Gervais, Stephen Merchant and Karl Pilkington to promote the new series of An Idiot Abroad, in which Karl explains why he's got no plans to try and make it as an actor:
Karl: "I can't act. I went to a casting session in Shepherds Bush once, my agent sent me. I couldn't do it. The part was a gay gardener who walked dogs. I had no experience."
Ricky: "That's not being an actor, you don't have to have done that. I've seen ghosts, have I, and run a museum? I invented lying? I don't think that's an issue."
So THAT'S how they do it…
Read More
Filed Under: