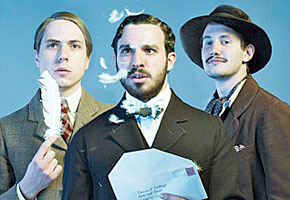 There's a slight chance that you are reading about something that you will never get to see, so forgive us.
Simon Bird and Joe Thomas, the twenty-something guys who play teen-something guys in The Inbetweeners, have released a pilot for a new comedy show called Chickens, which is essentially about three guys who, for very different reasons, have not gone off to fight in the First World War. They live in a small village, and they're the only young men left there, and all of the women hate them.
Simon plays the slightly pompous one, Joe plays the love-sick, principled one, and their colleague Jonny Sweet plays the idiotic lustful one. Sound familiar? Yep.
Here they are, talking about the show, which is rather grand:
More news about a US showing when we get it.
Here's what else is going on in the world of now:
• It has only just premiered at the Venice Film Festival, but the Brit-swamped film Tinker Tailer Soldier Spy has already started to create Oscar buzz. Madonna's W.E. has had a slightly less ecstatic response, let us say. (via Sky News)
• Speaking of whom, Madonna's ex, Guy Ritchie and his new girlfriend Jacqui Ainsley are celebrating the birth of their first son together. Madge sent a huge bouquet. (via the Mirror)
• Sting and his missus, Trudy Styler, are to be honored by Bill Clinton for their sterling charity work. (via Star)
• In common with a lot of wives, Gwyneth Paltrow has to wait for her husband to go out before she can listen to Coldplay. Difference is, her husband is IN Coldplay. (via Musicrooms)
• Kate Winslet is too talented for film writers to handle. (via STV)
• George Harrison? The quiet one? Not according to his widow he wasn't. (via Female First)
• Details have emerged of Cheryl Cole's full involvement in the Cameron Diaz film What To Expect When You're Not Expecting. Basically she says "um" and then she says "no," in a TV talent show scene which may not be essential to the plot. The Academy Awards panel have not been put on high alert. (via Entertainmentwise)
• True fact: Keira Knightley didn't wear skirts until she was 14 years old. (via Entertainmentwise)
• Joan Rivers says Harper Beckham is an idiotic name. (via Contactmusic)
• And while we're on celebrity offspring, today's Adele revelation is that she wants five children, but only if they're boys. She told Vogue: "I've always got on better with boys. Most of my friends are boys. Like, if I have children, I want five boys. Boys love their mothers whereas girls can be so mean to each other." (via the Guardian)
Yep, it's true. Brothers never fight. Not ever.
Read More
Filed Under: