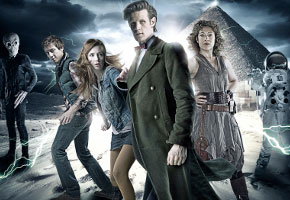 Spike TV have announced the nominations for this year's Scream Awards, celebrating all things horror, sci-fi and fantasy-related. And right among your True Bloods and your X-Men are two very British brands indeed.
Harry Potter And The Deathly Hallows Part 2 has been nominated in no less that FOURTEEN categories, including The Ultimate Scream, Best Director and, uh, Best Scream-Play.
Meanwhile, our old friend the Doctor is battling against Fringe, Game Of Thrones, The Walking Dead and True Blood in the Best TV Show category.
Naturally it would be quite wrong to suggest you get on over there and ensure a Time Lord victory. So we won't do it. You must do what you think is right. But do it soon, 'k?
Here's what else is occuring in Todayland:
• Jessie J admits she'd never heard of PJ Harvey before the Mercury win. There again, PJ Harvey said she'd never heard of anyone on the shortlist, including the ubiquitous Adele. So who looks silly now, eh? (via NME)
• If you're waiting for a follow-up to Plan B's album "The Defamation of Strickland Banks," you may want to bring a crossword and a long book, he's too busy making Brit gangster films like Turnout (click the name for a trailer), and writing and directing his own film Ill Manors, and is in no hurry to put new material out there just yet. (via Gigwise)
• Amy Winehouse's family (Mitch Winehouse, Amy's mum Janis, her stepmum Jane and boyfriend Reg Traviss) will be appearing on Anderson on September 12th. (via Holy Moly)
• What is it with Spice Girls naming children after bits of New York? Mel B's new baby girl has been named Madison. (via New)
• Meanwhile Victoria Beckham is under the scrutiny of PETA, who want to know whether she's using real reptile skin in her handbag designs, and if so, what kind of conditions the reptiles are kept in. (via Metro)
• There's no way of broaching this subject delicately, so I'm just gonna say it quickly. Simon Cowell has had a threesome. Now wash your minds, quickly! (via Musicrooms)
And that's all for now, except to say that Adele is still poorly, and has had to cancel some more concerts. She has sent this message to disappointed fans via her website though: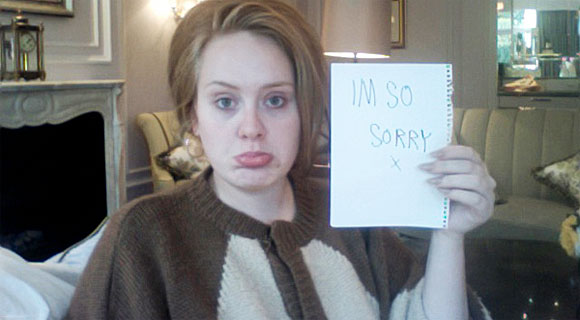 Read More
Filed Under: