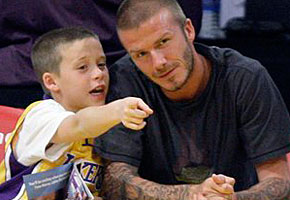 There's something unique about being the father to a new daughter, as David Beckham has recently discovered. You're not dealing with a miniaturised version of yourself, and no matter how your raise her, her experience of the world will be entirely different to yours. Then there's the father-daughter bond, an astonishingly powerful emotional tractor beam, if all goes according to plan.
In the Beckham household, that's exactly how it's going, with little Harper rapidly becoming the apple of her daddy's eye.
He told ITN: "She is a proper little girl. She is very feminine in every way. I've never had that before. I've never seen that before. So, everything she does, it kind of amazes me. Every time she moves or she makes a noise, it's amazing having a little girl."
And David's not the only man in the Beckham family who's feeling protective: "She also has got three brothers that will be exactly the same. They will be taking her to her date, they will be bringing her back from her date. And her dad will be opening the door."
And her mum will be behind him, pouting. That's what she does.
Here's what else is shaking, as of right now:
• Yesterday, it was Rihanna getting told off by a farmer, today it's Britney Spears feeling the sharp side of the London Borough of Hackney's council officers, who object to her use of guns in the video to "Criminal," which was shot in Stoke Newington Town Hall. Hackney's got enough problems with real guns, you see.  (via NME)
• One of Roald Dahl's most beguiling children's classics has been bought by Dreamworks to be turned into a film. The BFG looks set to be produced by Kathleen Kennedy and Frank Marshall, who worked on The Bourne Ultimatum, and written by Melissa Mathison, who wrote E.T. (via Evening Echo)
• According to a paparazzi photographer, who was doing nothing wrong except taking his picture without asking permission in a public place, Robert Pattinson nearly hit him, with no provocation whatsoever. None. Tsk. (via Musicrooms)
• Leona Lewis has moved the release date of her third album "Glassheart" back to 2012. Because she's got lots of good songs to record, according to her Twitter feed.
• Is Cheryl Cole dating a British soldier? Maybe when he gets back from Afghanistan… (via Now)
• Indie band Bloc Party are looking to find a new singer, as their former leader Kele Okereke has been too long with his dance direction and solo career. It's either a stop-gap measure to pass the time, or the end of the band. Time will tell. (via Metro)
• David Walliams appears to be iller than people first realised. The symptoms he picked up during the early stages of his Thames swim – diahorrea, rash, fever – have yet to fully go, and he's now being tested (according to the Sun, at least) for Weil's disease, which can, in extreme cases, prove to be fatal. Fingers crossed all will be well.
• Liam Gallagher doesn't look after his CDs, and sometimes keeps them in the microwave. Ever seen what a microwave can do to a CD?
You have now.  (via Contactmusic)
Note: Don't actually do this. It's dangerous. And silly.
Read More
Filed Under: