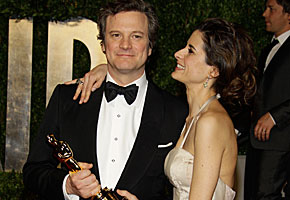 Can I begin with a question? If you had won an Academy Award for being the best actor in the world, where would you keep the trophy? On the mantelpiece? On the hood of your car? On a chain around your neck at all times?
Well, if you're Colin Firth, who actually did win that very thing this year, the answer is that you hand it around various people in your family, after doing a victory lap of everyone you know, obv.
He told ITV's Lorraine Kelly: "I carried it around for a while and I showed it to anyone who was interested, but they all got bored of me. It's fantastic, it went to school with the kids for a while.
"It is there for anyone who wants to lay hands on it and it tends to migrate around the house a bit."
I tellya, the parents of the other kids at that school must've been THRILLED. How do you match an actual Oscar for show and tell?
Here's what else the British showbusiness community are up to at the moment:
• Julian Fellowes, the man behind period dramas such as Downton Abbey, The Young Victoria and Gosford Park, has apologised for over-reacting when fans of Downton Abbey pointed out several on-screen historical inaccuracies, including a very visable TV aerial. At the time, he came out swinging, saying "they think to show how smart they are by picking holes in the programme to promote their own poshness and to show that their knowledge is greater than your knowledge."
But in an interview with the Radio Times, he's admitted that the fault lies with him as Executive Producer, and that he now realises that he "behaved rather badly by getting the hump."
• Sir Paul McCartney's wedding to Nancy Shevell has gone up a notch from "on the way" to "imminent." (via Female First)
• The Inbetweeners movie is celebrating a month at the top of the UK box office. (via Gigwise)
• Madonna has a UK stalker who was so obsessed he broke into Guy Ritchie's house and tried on his clothes. He has since been arrested. (via Virgin Media)
• Apparently Cheryl Cole is going to go back to the UK X Factor for some kind of *cough* "explosive" return to her judging job. Let's hope no one gets hurt. (via Heat)
And finally, Mitch Winehouse, father of Amy, has told the Sun that he doesn't blame her ex-husband Blake Fielder-Civil for her death: "I blame him for a lot of things. He started her on the road to hard drugs. But her death was a horrible accident. It was her responsibility."
in case you missed it, here's Mitch talking on Anderson about Amy's drug use at the time of her death:
OK, so where would you keep your Oscar? Tell us here:
Read More
Filed Under: