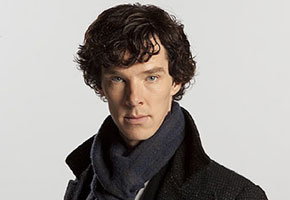 Can't get enough British period drama? Wish Benedict Cumberbatch was on your TV all the time? Got a bit of a thing about starched shirts? Well today's your lucky day, sunshine.

The BBC has just announced a new adapation of Ford Madox Ford's novel Parade's End, which takes place in the same Edwardian time frame as Downton Abbey. It's been written by Sir Tom Stoppard, who knows as much as (if not more than) Julian Fellowes about writing high quality drama, and stars Benedict alongside Rupert Everett and Anna Skellern. The series is directed by Susanna White, who won a Bafta for the BBC's adaptation of Dickens's Bleak House. And it's being produced by Piers Wenger, who recently left Doctor Who.
Sir Tom said: "The BBC came to me with the idea of adapting Ford's novel for TV two years ago. I had never read it and I fell in love with it. Parade's End has been my main pre-occupation since then. The title covers a quartet of books set among the upper class in Edwardian England, mostly from 1911 to the end of the Great War.
"I spent about 18 months on the dramatisation of the novel into five 60-minute episodes."
And it's definitely got Benedict Cumberbatch in, right? That's all we need to know.
• Speaking of adaptations, here's the trailer for the new Andrea Arnold movie of Emily Bronte's Wuthering Heights, which was orignally supposed to star Natalie Portman as Kathy. Kaya Scodelario from Skins stepped in after Natalie pulled out. This is also the first time that a black actor – James Howson – is playing the role of Heathcliff. Not that it matters from this trailer, for once the starring role has been rightly given over to the Yorkshire Moors.
• Rowan Atkinson has offered a few more details as to the car crash he recently endured, which damaged his McLaren F1 supercar, and his shoulder too. And if you think I've got those the wrong way around, well so has Rowan.
He told Live Magazine: "Basically the car span on the wet road and hit a road sign. It was a big bang and not something one would wish to do every day of the week. But no other car was involved thankfully, and it would appear that car and driver will mend… It really could have been a lot worse.
"The McLaren is a rare car, but it's made entirely of carbon fibre and is unbelievably strong, and that was undoubtedly a big factor. If it had been a steel or aluminium monocoque there would have been a greater risk of injury." (via Female First)
• He's not the only one in the wars. Poor Jessie J has had to pull out of her support slot with Katy Perry after her broken foot hasn't healed as well as she had hoped. Ellie Goulding will be taking her place instead. (via NME)
• Adele brought a concert in London's Hammersmith to a halt last night when she noticed that one of her fans had fainted. While obviously concerned, she did also say "that's proper rock 'n' roll!" which is perhaps not the best bedside manner in the world. (via Gigwise)
• Speaking of proper rock 'n' roll, here's Chris Martin from Coldplay. Wait! Don't run off! He's got important things to say about the categorization of music, specifically in reference to how much he loves Rihanna's guest appearance on the band's new album "Mylo Xyloto."
He told MTV: "I think at this point, we have nothing to lose, and so we've been trying some new things and trying to break down the perceived boundaries between different types of music." (via Metro)
And to think they could have spent that time writing some nice tunes. Duh!
• And finally, remember ages ago we did that series about Great (British or American) Things That The (British or Americans) Ruined? I think I've found a candidate for part two. This is William Shatner and Ozzy Osbourne's guitarist Zakk Wylde doing unspeakable things to Black Sabbath's Iron Man. A British creation which, frankly, deserves better.
Revolver Mag debut William Shatner Iron man feat. Zakk Wylde by Cleopatra Records
Read More
Filed Under: