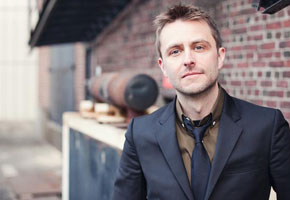 Young American nerds in the '70s and '80s always had brain-boners for British comedy. The imports we got were drier and more academic in nature than what American TV provided in those days. Also, tracking down new gems was a game in and of itself. In a pre-Internet civilization, we were forced to seek out new forms of comedy like scavengers: degraded VHS tapes, late night PBS, short trips across the pond…you damn kids today have it so easy! Here's a list of my favorite British comedies (sitcoms and sketch) in no particular order…
Ironically, MTV used to be on the cutting edge of television programming long before I ruined it in the 90s. The adventures of Rick, Neil, Viv, and Mike carried me through high school. Favorite joke from the series: Rick has decides to hang himself on a crucifix for a protest to which Neil says, "I've tried it hundreds of times! There's no way to hammer in the last nail!" Sidenote: Ben Elton was a co-creator.
http://www.youtube.com/watch?v=k2Q4f0HTy7w
The Day Today
Long before The Daily Show there was The Day Today, Chris Morris's genius news satire show. If I'm not mistaken, this was also where we were given our first glimpse at Alan Partridge. I've used up a couple of region II swaps watching the British DVD on my computer.
Garth Marenghi's Darkplace
A genius, multi-layered show walks which the audience through a fake '80s low-budget sci-fi show from the point of view of present-day cast members reflecting on it.
http://www.youtube.com/watch?v=BH4_mZh-bj8
Robert Popper and Peter Serafinowicz mashed up my two favorite things into one brilliant chipwich: science and comedy. The idea of satirizing grade school health films is so magical in its simplicity that I'm kind of pissed I didn't think to do it. Though, their take is much funnier than I would have done so everything's the way it should be.
Pegg, Frost, Wright… how many more words do you need??!
One of the many wonderful things Rowan Atkinson has put into this world is a cherished gem to British comedy expats. Also, you get a twofer with Hugh Laurie and Stephen Fry!
Tube Slags
This is a show about a sassy but lovable ring of prostitutes who perform sexual services to the folks going to and from work on the London Underground. Catherine Tate plays "Lottie," the mastermind madame and tube commissioner who secretly starts the ring after the UK government siphons pensions to put granite countertops in the bathrooms at Parliament. Her scam is hotly pursued by a nosy but clever member of Scotland Yard's Marine Policing Unit called Gulliver Borth – played by Benedict Cumberbatch – who is convinced that if he is able to crack this scam his higher-ups will have no choice but to promote him out of the marine unit, or "The Fish Police," as his mates call it. This show doesn't actually exist. I just made it up. BUT WOULDN'T IT BE INCREDIMAZEBALLS???
I love this show on its own comedy merits, but knowing some of the history behind it, the show was condemned by the networks as "unfunny" when John Cleese first pitched it. It was given the go-ahead by an executive at BBC who didn't get it but trusted Cleese. WHY CAN'T MORE PEOPLE DO THAT?? It's a great example of "trust the funny people to do their job." I've always thought a little bit that Larry David should write a check to Basil Fawlty for the miscommunications-leading-to-disastrous-boiling-points-with-an-impatient-narcissist device that made the show tick.
I know! I know! Obviousness. But it really was my first taste of British comedy, to which I became hopelessly addicted. My friend Aaron showed me a crappy VHS copy of "The Killing Joke" in the mid-'80s and it widened my world view of what comedy could be. It absolutely shaped who I am as a writer and performer from my earliest days of comedy consumerism, when my brain was still all mushy. You never forget your first Python! What… that sounded wrong. Uh… penis! Dang. That wasn't it either. I'm no good at this.
Other shows that are fantastic that I'm rapid-fire listing only for purposes of keeping this article short are A Bit of Fry & Laurie, The Catherine Tate Show, The Mighty Boosh, That Mitchell & Webb Look, Nathan Barley, the original Office, and anything with Alan Partridge in the title. I realize there are many others not mentioned here so please feel free to list your favorites in the comments!
Chris Hardwick is the host of BBC America's comedy block Ministry of Laughs. His new special, The Nerdist, premieres Saturday, September 24th at 10/9c on BBC America.
See more from Anglophenia:
Top 10 British TV Dramas of All-Time
Read More
Filed Under: