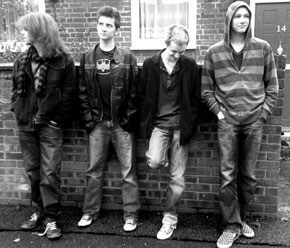 We've had a lot of nerdy things going on here at Anglophenia lately. Well, that's because Chris Hardwick's The Nerdist special is coming to BBC America on Saturday, September 24th at 10/9c. Doctor Who star Matt Smith is a guest. And in celebration of that and all things Who-related, we thought we'd go by the way of Trock Rock a.k.a. "Time Lord Rock." For those who aren't in the know, the Doctor Who Tumblr has a nice explanation of what it is — "music based on, and written about, the TV series Doctor Who."
But it is Nerdist Week after all, so why not, right? So here's our little tribute… are you ready to trock?
Chameleon Circuit
These British guys started it all. Alex Day was inspired by what was happening with wizard rock, which of course is the genre supporting music made about Harry Potter. So Day and some of his Who-lovin' pals, Charlie McDonnell, Liam Dryden, and "Ginger Chris" Beattie, crafted their own indie rock sound in 2008, and a year later, they issued their self-titled debut. A second studio album, Still Got Legs, arrived in July, along with some lineup changes. We imagine many of you reading this right now adore this lot to bits. How can you not with songs like "Exterminate Regenerate" and "An Awful Lot of Running." Oh yeah, The Nerdist gushed about' em last year, too.
Check out the blokes below at this summer's VidCon. Charlie's sporting a "nerd" T-shirt too. Awwww… how fitting.
Allegra Rosenberg
We've featured this ginger-haired teen on Anglophenia a couple of times already. We just cannot get enough of her clever-catchy ukulele tunes. Seriously. Neil Gaiman has tweeted her, plus his wife, singer Amanda Palmer offered up her own rendition of Rosenberg's "Say Hello" with musician/comedian Reggie Watts in an outtake from one of BBC America's Doctor Who specials in August. This list would not be complete without her. Here's a new song called "Amy Pond's Lament."
Turn Left
These Oxfordshire-bred twins have done the wizard rock thing under the Riddle™ moniker for a number of years now. When they're not muggling about, the Minnear sisters also create a merry sound under their first names, Victoria and Georgia. But we also totally heart them as trock band Turn Left. "When Autons Attack" is adorable, but "Time Lord Spaceship" is even more so. Both are included on their debut LP, Void Stuff, which dropped in April and includes references to Vashta Nerada, the Weeping Angels, and more. Squee!
http://www.youtube.com/watch?v=H0WTttIvy9s
Mr. Saxon
While this Aussie singer/songwriter shares an assorted mix of covers and originals (plus heaps of vlogs) via YouTube, his Who-homage called "Doctor, Doctor" — as heard on the Trock On! compilation curated by Chameleon Circuit's Alex in 2009 — is a charmer. Plus, "The Doctor's Message" is another trock fave.
The Doctor's Daughter
Yeah, yeah, it's another from the Trock On! set, but the blissful space rock-tinged hypnosis that is "Jennyrated Anomaly" has had our jaws on the floor for ages. David Tennant and Catherine Tate fans will surely jump for joy for this one.
Do you have a favorite trock rock band or song? Tell us here.
Read More
Filed Under: