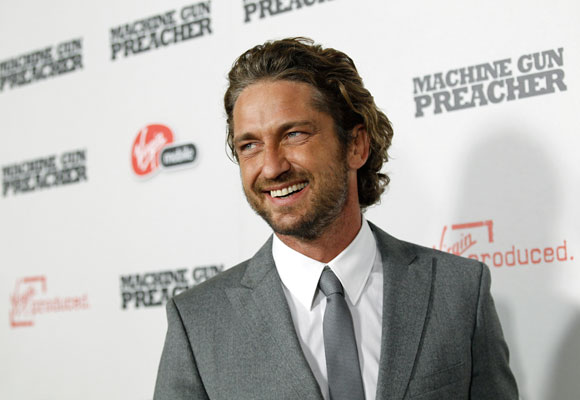 It's another case of an actor's accent provoking the wrath of purists. In this instance it's Scotland's Gerard Butler playing an evangelical preacher from Pennsylvania in the new film Machine Gun Preacher out today (Friday).
Butler told me: "It was work! I worked on it everyday. So I did my best. It was hard to do the dialect that is so different than Scottish and then try and get into the subtleties and complexities of that character but it also made it more fun."
But the actor's efforts haven't satisfied picky accent patrolling watchdogs.
One online complainant has noted: "I'm sorry, but is no one else put off by Butler's awful faux accent? It's been wigging me out since I saw that trailer. What is it, New Yorker + Texan with strong dashes of Australian?"
Accent aside, what's to be made of the film itself?
Many critics are pointing out that it's another example of Hollywood presenting us with a white savior arriving in Africa performing heroic deeds.
Inspired by a real-life story, Butler plays a born-again ex-con from Philadelphia who ends up building an orphanage for children in war-torn Sudan.
Journalism has striven to generate interest in the West in the plight of young children in Sudan who're the victims of atrocities – often carried out by other youngsters who've been turned into killers by the adults who've enslaved them.
Butler sees the film as immersive, enabling it to bring home the horror more powerfully than journalistic accounts: "I do think that this is a way more effective way to tell it than reading information in a newspaper."
The violence in the film is exceedingly gruesome. One grisly scene shows an African woman whose lips have been cut off. I asked the actor if he thought audiences might be so put off by what they see on-screen that it becomes counter-productive, deadening their response.
He replied: "When you research this, and you read about what's actually going on there it's way worse than we show in our movie. It's a thousand times worse. So we actually had to back off in the movie. Yet at the same time you can't completely back off."
Butler's acting is nothing to complain about – it lacks subtlety, but that's probably more to do with the screenplay than any major deficit on his part.
I saw Machine Gun Preacher at the Toronto Film Festival where another film, Coriolanus, was also showing off his talents to much better effect. It's an adaptation of a lesser-known Shakespeare tragedy, in which Ralph Fiennes both directs and stars. Coriolanus plays Fiennes onscreen nemesis, and he gives a truly stellar performance.
Read More
Filed Under: