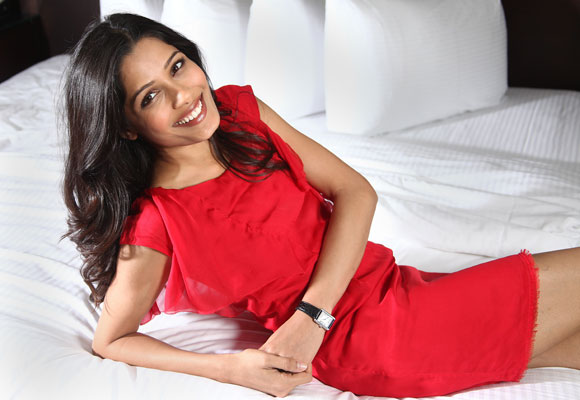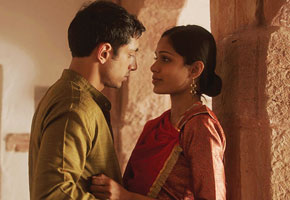 Slumdog Millionaire star Freida Pinto claims her new film Trishna, which has just had its world premiere at the Toronto Film Festival, challenged every acting muscle in her body.
The actress is in virtually every scene in a movie that's a re-imagining of British author Thomas Hardy's 1891 novel Tess of the d'Urbervilles. The setting has been transposed from England to modern-day India.
The picture, directed by British filmmaker Michael Winterbottom, is the story of a young woman from rural India serenaded and seduced by the son of a wealthy hotel owner played by Riz Ahmed. Smitten, she becomes totally dependent on him. But it doesn't end happily – she is the target of his abuse culminating in acts of sexual degradation.
Although it's based on an 1891 text Pinto sees it as a modern story. She says, "I feel Thomas Hardy's writing is very prophetic. It's almost like you can see in the future. When I read the book, the 19th century England reminds me of the current situation in India – with modernization, with technology, and with this shift from the traditional thinking and modern thinking that Thomas Hardy talks about in his 19th century novel."
Many Bollywood actresses would probably have shunned the part because of some of the scenes of sexual degradation.
But Pinto, who developed her career outside the Bollywood system, had no reservations. She says: "I understood what Michael was getting at. It was not just gratuitous. It was required. We were talking about a passionate love story gone wrong. It bordered on sadism. So I did not see anything wrong in it. "
Pinto, who's romantically involved with her Slumdog Millioniare co-star Dev Patel, won some praise in one early review. The Hollywood Reporter wrote of "Freida Pinto instilling fragile dignity into Hardy's tragic heroine."
But that same reviewer also found the film overall "somewhat dramatically underpowered."
As for Dev Patel the actress says, "He was very overwhelmed and he loved the film. So for him it's an immense sense of pride that he's overtaken by."
Read More
Filed Under: