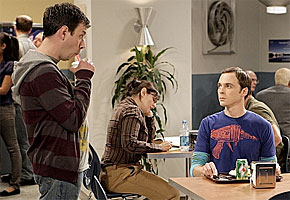 Earlier this week, we took a look at two phrases which started out as envious, but mainly affectionate insults for people who excel at the fancy book learning: swot and boffin. That's the acceptable face of Nerdism in the UK.
But what of, y'know, the others? What of the people whose particular obsessions are not so socially enviable? What of the trainspotters, the saddos, the twitchers, pickers and pencil-pushers*? If a British person comes up to you, while you're drooling over an Inverted Jenny in a stamp dealer's window, and calls you a spod, what's the correct response? Fisticuffs? Sarcasm? Tears?
Don't fret, we can all get through this together.
Let's start with something relatively simple. The fine old tradition of trainspotting. A globally recognised obsession, and nothing to do with taking heroin in Edinburgh with Ewan McGregor. Now, to be a trainspotter in Britain requires some initial financial outlay, in the early stages. You need to get a notebook, a nice pen, possibly a camera and a waterproof bag (I've also seen people setting up expensive sound recording equipment next to the tracks, but let's not run before we can walk). The other thing you'll need is a raincoat of some description. Preferably something breathable and relatively lightweight, so you'll be fine in a summer downpour, and you can bulk up with sweaters underneath, in the winter.
The catch-all term for such a rain-coat is an anorak, taken from the kalaallisut (native Greenlander) term for an outer coat with am integral hood. Strictly speaking, an anorak is a waterproof coat with drawstring cuffs and a draw-string hood, as opposed to a parka, which is longer and doesn't have the drawstrings. In the schoolyard, the kids who had anoraks, or any kind of sensible coat for a rainy climate, bought by their parents, were obviously less cool than those kids who had, say, leather jackets. Not that you'd often see a kid in leather jacket, but that's not the point.
The point is, anorak then became a term of eyerolling abuse for people dressed in appropriate clothing for the climate, because dressing sensibly implies a certain lack of spontaneity. People who watch the end of Four Weddings and a Funeral and wince because neither Hugh Grant nor Andie McDowell have an umbrella, never mind the swooning romance.
It's not that big a stone-skip from there to use the word to describe anyone with an bewildering obsession which is severe enough to necessitate a long wait in the rain, and then on to anyone with an obsession, full stop.
And it's not just trainspotters who can be anoraks. Obsessive Michael Jackson fans? Anoraks. Adults who buy Star Wars toys and keep them unopened? Anoraks. Comic Book Guy? Anorak. Collectors of, well, almost anything? Yep, you too.
But if anoraks have one thing going for them, at least they're not spods.
Brilliantly dehumanising word, spod, isn't it? It sounds like something which is not of woman born, but hatched. Something which lives and breathes not on food or oxygen, but on the internet, maybe forming part of a colony of spods (or 'forum') and viciously defending its territory with the twin weapons of withering scorn and dedicated pedantry. Yes, they have the same compulsion to learn as a swot, they may even become a boffin with time (although that would require attaining a modicum of respect from society as a whole), but they're a step removed from social norms, they may even consider themselves above such petty niceties.
Of course, spoddery is often an enforced state. All you'd need is the crushing realisation that the things you value are not valued by the bulk of people you are forced to spend time with, and a few years of feeling socially ostracised because you fail at being cool. Throw in some bullying, mockery and suggestions of mental deficiency, plus wedgies, gum in your hair and a "kick me hard" sign on your back, and hey presto! You're a spod.
You may now take your place alongside George McFly in Back To The Future, and John Oliver's drunken professor in Community. But if you can, try not to let it get to you.
Remember, you may be a spod, those other people are idiots.
* Saddo = a pathetic obsessive.
Twitcher = slightly derogatory slang for a bird-watcher.
Picker = an over-pushy bargain hunter at boot fairs, thrift stores and yard sales.
Pencil-pusher = a bureaucrat.
Don't forget, the Nerdist special, hosted by Chris Hardwick, premieres Saturday, September 24 at 10/9c on BBC America.
Which British slang term shall we over-analyse next? Tell us here:
Read More
Filed Under: