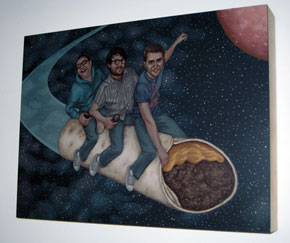 The fourth of Five Nerdist Podcasts That Shook the World was a real departure for the show: no guest.
On January 28, 2011, the Nerdist Podcast went to a twice-weekly schedule, and, at the same time, Chris, Jonah, and Matt made the fateful decision to try doing the second show of each week without a guest. Thus, episode number 56 was billed as a "guestless" podcast because, otherwise, asChris noted, "I'm gonna run out of (expletive) friends to have on this (expletive) show." (NOTE: The show isn't really restricted to Chris' friends. And his list of friends is long enough so that I doubt he'd run out anyway.)
There was another benefit: the "guestless" show turned out to be very, very entertaining, with talk about diets, Chris' almost-encounter with Danny Elfman and a breakfast burrito, the Double Coronary Burger, and the career of Mark Wahlberg. It gave the guys a venue to talk about whatever they wanted to discuss, no guest to interview, no interruptions, just a pure conversation, three friends talking about whatever interests them. And listeners responded with great enthusiasm, so it became a regular thing, popular enough so that in weeks where the schedule doesn't permit a guest-free podcast, we hear about it from listeners.
Along the way, the term "guestless" was jettisoned for the more positive "Hostful." The 25 Hostful Podcasts to date have included some of the more memorable Nerdist segments so far, including Matt's trip to see the final space shuttle mission's blast-off and Matt and Jonah's endless attempts to assign nicknames to each other (and Chris' unwanted nickname, which shall not be repeated here).
But this one's where the Hostfulness started.
Remember, Chris, Jonah, and Matt will be on BBC America on Saturday night, September 24th, at 10/9c with the Nerdist TV special. The guests will be Doctor Who's Matt Smith and The Late Late Show's Craig Ferguson.
Come back tomorrow for one more Nerdist Podcast that Shook the World!
Read More
Filed Under: