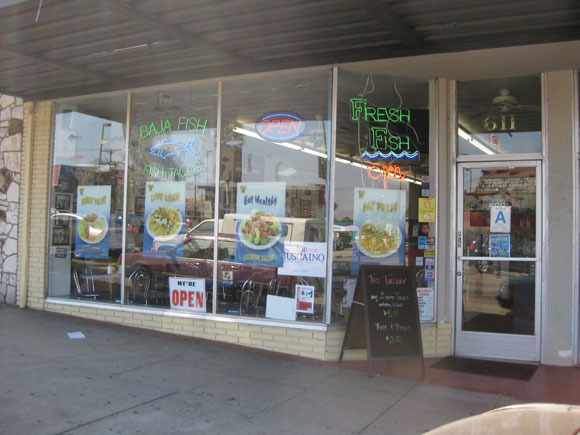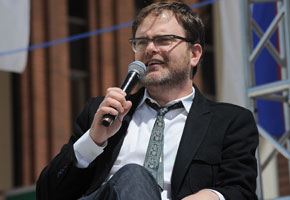 The Nerdist Podcast on which Chris, Jonah, and Matt were joined by actor Rainn Wilson (The Office, Six Feet Under) is notable for several reasons, but it's not on the list of Five Nerdist Podcasts That Shook the World for the particularly NSFW opening segment, nor the on-mic eating that ticked off some listeners, nor the deep discussion of spirituality and navigating the Hollywood waters and Rainn's Soul Pancake website and the aftermath of 9/11, nor Chris singing, "We built this city on sneezing snacks" (and Jonah's admission that he dreamed that he had sneezed out a lemon). No, we're including this one for a single specific reason: a burrito.
"Enjoy Your Burrito" has become a catchphrase of sorts for the Nerdist Podcast, closing every episode, but what does it mean? All was revealed in this episode, which posted on October 4, 2010. The burrito thing comes up at about the 56-minute mark, when Jonah discusses living in San Pedro, trying to get his comedy career going, and getting depressed. He talks about going to his favorite burrito place, and being depressed when halfway done with the burrito because it meant he'd have to go back to his depressing job. And that's when he decided to "believe in the burrito," enjoying the rest of the burrito right at that moment and worrying about the other stuff later. That story became, in shorthand form, "Enjoy Your Burrito," which Nerdist fans have adopted as a motto for life. Nerdist is, at heart, about optimism and creativity. And Doctor Who, comedy, the Muppets, and other obsessions.
The whole show is an interesting example of how wide-ranging the Nerdist Podcast can be, from dirty jokes and swearing to serious, deep philosophical thought, and everything in between, the result of a bunch of interesting people just sitting around talking. But jump to the 56-minute mark and you get the Cosmic Burrito, and that's enough to make it a milestone for the Nerdist Podcast.
The TV version of Nerdist won't be NSFW, by the way. But it WILL be entertaining, it WILL include Doctor Who's Matt Smith and The Late Late Show's Craig Ferguson, and it WILL be on BBC America on Saturday, September 24th at 10/9c. You might want to enjoy your burrito while watching the show.
Come back tomorrow for Nerdist Podcast No. 4!
Read More
Filed Under: