With the debut of The Nerdist TV show on BBC America on Saturday, September 24th at 10/9c, we're giving fans and newcomers alike a chance to hear or relive pivotal moments in Nerdist Podcast history, with an emphasis on five episodes that are especially notable or serve as milestones or benchmarks. (Actually, we just didn't want to commit to calling them the Top 5, because we love them all equally, like the children we don't have.)
The first episode we shall anoint as special is the first episode, period. It was January 31, 2010, and in Miami (technically, Miami Gardens), the New Orleans Saints were captivating the nation by winning Super Bowl XLIV over the Indianapolis Colts, 31-17. Meanwhile, at a house somewhere in Hollywood, Chris Hardwick, comedian, actor, television personality, and former radio host, brought his friends Jonah Ray, a comedian and writer for Hardwick's TV show Web Soup, and Matt Mira, a comedy writer and podcast producer, to sit down with Reno 911, Viva Variety, and The State comic actor/writer and prolific screenwriter Thomas Lennon and record the first of what Hardwick hoped would be a regular show. Hardwick had established Nerdist.com as a personal blog to reflect his interest in what he dubbed "nerd culture" and wanted to do an audio version. But he also wanted the freedom to do it how and when he wanted to do it. Podcasting offered that opportunity, so on Super Bowl Sunday (having little or no interest in the actual game), he, Jonah, and Matt recorded the first edition of the Nerdist Podcast with Lennon.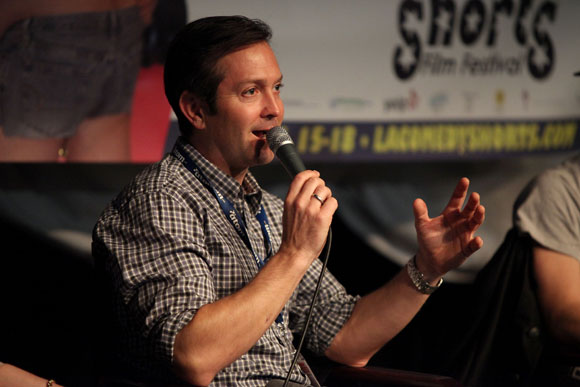 The show, posted on February 8, 2010, was an unstructured affair, without some of the elements that became familiar in later podcasts. We had yet to settle on a theme, so Lennon performed his own on a Casio keyboard with slide whistle accompaniment. It was also before Jonah's burrito story, and definitely before the guys worked out how to keep the levels right so everyone could be heard (the guy who sounds like he's down the hall is Jonah), but it was an early indication that Matt is a Dave Matthews Band fan, which became a subject of callbacks in later shows.
Listen to this one to get an idea of where it started: a conversation between funny friends with discussions of things like Beatles comics and stories about career stuff like encounters with Radiohead and James Gandolfini that didn't go quite as well as hoped. The show got refined and focused in later weeks, especially as Chris explored the creative process each guest uses in his or her craft, but this is how it began:
Come back tomorrow for the second Nerdist podcast on the list…
Read More
Filed Under: