Readers have been asking us why we didn't include comedian Chris Hardwick in our list of celebrity Whovians. Easy. Hardwick is not simply a Whovian; dude's a freakin' Whovangelist, spreading the gospel of the Doctor on his massively popular Nerdist podcast. His fan cred, both on The Nerdist and off, is unquestionable, and he definitely has the pictures to prove it. See Mr. Hardwick below, decked out in No. 10's pinstripes and specs: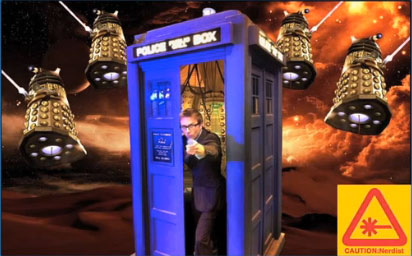 His Who love certainly deserves its own TV platform, and it deserves its own post. We've compiled a few of his greatest Whovian moments:
1. Chris Hardwick Dons a Fourth Doctor Scarf on Craig Ferguson
If you're on The Late Late Show with Craig Ferguson and your fellow guest is Matt Smith, it's like church, you must dress for the occasion. This time, Hardwick nodded to classic Who, wearing Tom Baker's epic stripey scarf (knitted by @TARDIS_Tara) and a T-shirt emblazoned with a Delorean crashing into a TARDIS. (By the way, do Hardwick and Ferguson have great nerd chemistry or what? You'll see more of that on Saturday's Nerdist special.)
http://www.youtube.com/watch?v=Jr6syOIbAOc
2. Chris Hardwick meets Peter Davison and Janet Fielding at Gallifrey One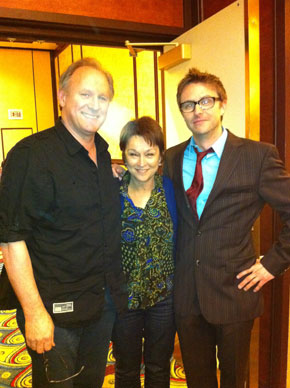 Hardwick dressed as David Tennant + Fifth Doctor + Tegan = panting, toe-curling, eye-rolling, goosebump-producing nerdgasm of titanic proportions.
3. Chris's Video Exchange with Matt Smith, Karen Gillan, and Arthur Darvill
Chris Hardwick meets a lot of fellow celebrities in his line of work. But he was absolutely giddy when he received a video message from Matt, Karen, and Arthur (a.k.a. Karen and the Babes), featuring their spirited rendition of the Who theme. Matt responded in kind with his own lyrical take on Ron Grainer's composition, backed by a "Thousand Person Orchestra" of Whovians.
Watch the exchange in the video below, which is, to use Hardwick's own term, "INCREDIMAZEBALLS." Actually, the video is now private, but just imagine the awesomeness. Because it was awesome.
4. Chris moderates the Doctor Who panel at the Season 6 premiere in NYC
Chris was rewarded for his contributions to Whovian awareness with an awesome gig: he moderated the highly anticipated Doctor Who Q&A that followed the sneak peek screening of the first two episodes of the sixth season. (If you remember, literally thousands of fans wrapped around an entire New York City block to get in – an event so momentous, even the New York Times covered it.) And this was no ordinary panel: Smith, Gillan, Darvill, Alex Kingston, lead writer Steven Moffat, executive producers Piers Wenger and Beth Willis, and director Toby Haynes crossed the pond to interact with fans.
This bit of Who history is preserved for posterity in a Nerdist podcast, just so you know. Listen to it here.
5. Hardwick's Comic-Con podcast with Matt and Karen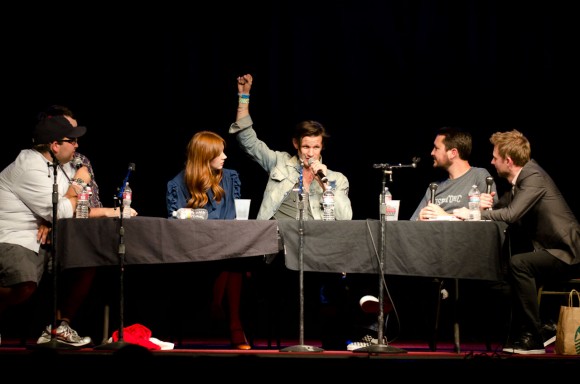 Comic-Con. Wil Wheaton flirting with Karen. Karen expressing her love of all things Star Trek: The Next Generation. Matt Smith waxing rhapsodic over Stand By Me. "The Moffat Muppet" appearing on stage and terrorizing the panel. It wasn't just a great fan moment – it was a Nerdist seismic event. Listen to it here.
What's your favorite Hardwick Whovian moment?
Read More
Filed Under: