As all true Nerdists know, celebrities are not better than real people. Their achievements in the fields of popularity, smiling, and bending over (depends on the celebrity) may be impressive, but they often have poor memory retention for important facts and rely on the likes of you or I to do the hard thinking for them. Any roundup of celebrity fandom for the mighty Doctor Who has to take into account two factors.
1: They can't have just become fans since the series relaunched. Or if they have, it has to have opened a door through which they then go off and investigate the old stuff. This might seem harsh, but they're celebrities, skimming over the top of stuff is what they do.
2: Getting access isn't the same as being devoted. Just cos you've been on the show doesn't mean you're more of a fan than anyone else. (See point one re: skimming.)
So, here's a select five who have provided services to the cause of Whovianity that are above and beyond the call of duty.
Queen Elizabeth II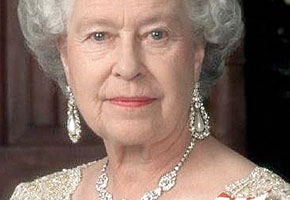 It's a rogue's trick to make all that fuss about unearned celebrity and then cite the ruling British monarch as our first example, so do forgive us, we mean no offense. But by all accounts, her Majesty is rather partial to a TARDIS romp or two of a Saturday evening and has watched the show ever since it started. In fact, if this news report is to be believed, she's a hardcore Ninth Doctor fan, and like a lot of Ecclestonians, still misses his glowering presence. She even takes Doctor Who DVDs with her when she goes up to Balmoral. And she does not appear to have attempted to use her influence to nab a cameo role. Now THAT'S classy.
Matt Groening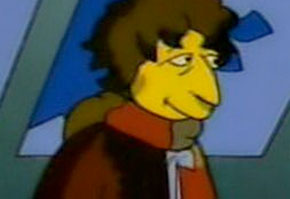 OK, so being mentioned in The Simpsons is hardly cast-iron proof of affection, or a love-letter from their creator, pretty much everyone's either been a guest or been referenced on the show over the years. But that doesn't change the fact that Matt Groening IS a Whovian, just like you and me. Heck, he's even nailed his colors to the Bakerite cause, with the Fourth Doctor making a few guest appearances here and there, starting as far back as 1995, and he reportedly named his fighting female lead in Futurama "Turanga Leela" because of, well, Leela. Oh, and of course the Fourth Doctor pops up in that as well.
Craig Ferguson
He'd be on the list for this (clearly written from the heart) alone:
But he's also an enormous devotee of the show's long and astonishing history (even if he appears to believe some of the monsters were actually rabbit hand puppets), and has interviewed Matt Smith and Karen Gillan so often they practically live under his desk. (He'll join Smith and host Chris Hardwick on the Nerdist special this Saturday at 10/9c.)
Steven Spielberg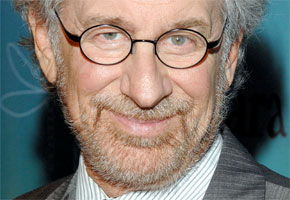 The hallmark of a true fan is that they develop a very personal relationship with the thing they adore. They don't love everything about it equally, and the things they don't like, they REALLY don't like. It's a good way to filter the true Whovians from the take-it-or-leave-it Who newbies, or Whobies, as they probably are not called. So, to find out that Steven Spielberg was once in the frame to direct a version of the show that had been bought out by Disney, that he allegedly considered offering a role in Who Framed Roger Rabbit? to Jon Pertwee, and that even now, after working with Steven Moffat on Tintin, he still prefers the older stories to the relaunched series — well, that just shows the depth of his love.
David Tennant
Yep, you read that right. Even if you take into account point no. 2, David still qualifies as a super fan, and he was already famous from appearing in the BBC's adaptation of Casanova, so all of our rules have been met. He has repeatedly told reporters that his biggest ambition as an actor was to play the Doctor, even when it looked like there could be no chance of doing so, because the show had been cancelled. And even after he did, he got to send himself up a bit, and make the biggest fanboy video of all for Comic Relief:
Never mind all the bickering, that little bit at the end, the "you're MY Doctor" bit, that doesn't make the slightest bit of sense unless you know a bit about David Tennant as a person.
Surprising omission: Bob Dylan.
A Panini sticker book about Sylvester McCoy's Doctor once claimed Bob Dylan was a big fan of the show, so much so that he allowed his music to be used without charge. Which not only sounds like hogwash (the music was never used) it just reminds me of the April 1st I told friends that P Diddy had ordered a full-sized Dalek made of solid gold and diamonds as a sci-fi glitter ball for his disco room at home. It just sounds like a fib, even if it is actually true, and it probably isn't.
Doctor Who's Matt Smith and celebrity Whovian Craig Ferguson will be a guest on The Nerdist special, hosted by Chris Hardwick, premiering Saturday, September 24 at 10/9c on BBC America.
Who did we miss? Tell us here:
Read More
Filed Under: