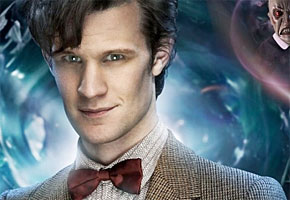 Let joy be unconfined, let hands be rubbed together with glee! The BBC have just released some details of this year's Doctor Who Christmas Special, and as usual, it's jam-packed with special guests and rife with intrigue.
It's all set during World War II, when young widow Madge Arwell (Claire Skinner from BBC's Outnumbered) takes her two children to live in a dusty old house in Dorset. There, while trying to make the best Christmas they can under the circumstances, they meet the Doctor, and startling things start to happen.
The sixty-minute special also stars three UK comedians: Bill Bailey (the man who recently did the Metallica cover using seal horns), Arabella Weir (The Fast Show), and Alexander Armstrong (of Armstrong & Miller fame).
Steven Moffat said: "The Doctor at Christmas – nothing is more fun to write. Maybe because it's so his kind of day – everything's bright and shiny, everybody's having a laugh, and nobody minds if you wear a really stupid hat. Of all the Doctors, Matt Smith's is the one that was born for this time of year – so it's the best news possible that he's heading back down the chimney."
And Claire Skinner added: "I am thrilled to be in Doctor Who playing Madge who is a bit of super-mum. It's a magical part."
Now who's feeling festive? Tell us here:
Read More
Filed Under: