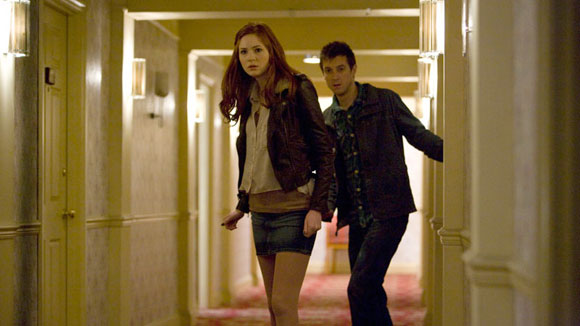 OK, this simply defines awesome. If you've been in a cinema lately, you've certainly seen the kinetic trailer for David Fincher's Girl With the Dragon Tattoo adaptation, set to Karen O.'s clattering remake of Led Zeppelin's "Immigrant Song." Well, mashup maestro Rick Kelvington has decided to parody that trailer, Doctor Who-style, with visuals from Toby Whithouse's recent episode, "The God Complex." (Thanks to TARDIS Newsroom for the head's up.)
I dare you to only watch this once.
http://www.youtube.com/watch?v=FdE9pf2i7pg
Oh, and slight tangent, there's a Muppets "Dragon Tattoo" mashup: "The Pig with the Froggy Tattoo."
• Speaking of "The God Complex," which aired this past Saturday (September 17), we have the Confidential for the episode.
• In "Closing Time," the next episode airing Saturday, September 24th at 9/8c,
Gavin & Stacey
's
James Corden
is back as Craig Owens! Check out the trailer:
• James recently told the Radio Times that he really wants there to be an episode of Doctor Who devoted to… I'm not sure how to put this… devoted to musical theater: "A Glee episode of Doctor Who would be amazing. In fact, why haven't they done that? Amy Pond and The Doctor doing 'Summer Nights' would be amazing."
• And if you simply MUST have further clues as to how this season will end, a man from the Radio Times has been to see the final episode, The Marriage of River Song, and claims to be able to tell us all about it without spoilers. Do you believe him? Would you rather not know? I'll just leave the link here and let you decide, OK?
• Doctor Who keeps on racking up the accolades. In addition to its TV Choice award wins last week for Best Family Drama and Best Actress (Karen Gillan), the series has been nominated for a Writers' Guild of Great Britain award for Best Television Drama Series. It's up against the Jimmy McGovern law drama Accused and the crime thriller The Shadow Line, both of which, oddly enough, star Ninth Doctor Christopher Eccleston.
• Don't forget: you can still vote for Doctor Who at this year's Scream Awards. The series is nominated for Best TV Show, Best Science Fiction Actor (Matt Smith), and Best Science Fiction Actress (Karen Gillan).
• Oh, and Karen Gillan, Alex Kingston, and Catherine Tate are all quarterfinalists in the Anglo Fan Favorites "Women of 2011" tournament. Voting for this round ends Thursday (September 22) at 11 am ET, so if you'd like to see your Whovian ladies move on to the Final Four, let your voice be heard now.
• Having already declared fezzes and Stetsons "cool," Matt Smith tells BANG Showbiz that he wants some new headgear for the Doctor: "I've been thinking of hats for next year. I think the pork pie's quite fun, or, you know, the Doctor in a fun trilby. I think Steven's going to go for a really ridiculous one. I really like the Stetson." How about we let royal wedding visionary Philip Treacy take a crack at the Doctor's new lid?
• Rob Hull, a 49-year-old South Yorkshire man, boasts such a large collection of Daleks that the Guinness Book of World Records has taken note. He owns 571 of the vicious exterminators, and, as the Doctor Who News Page reports, "the collection contains Daleks large and small including a 1.8 metre (6ft) lifesize replica model. He brought his first Dalek at 29 and has been collecting them ever since, despite not being a fan of Doctor Who."
Here's some ITN News footage of Hull's record-breaking menagerie of evil:
• Doctor Who fans worldwide are still mourning the loss of Elisabeth Sladen, who played one of the Doctor's most popular companions, Sarah Jane Smith, over the course of 40 years. But one man has channeled his grief into charity. Edward Russell, brand manager for Doctor Who, embarked on a 168-mile walk from BBC's studios to Cardiff to Television Centre in London, receiving almost £20,000 in donations from co-workers and fans of the show. All proceeds go to Meadow House, the hospice in which Sladen stayed prior to her passing at age 65 back in April.
"I was terribly upset when Lis passed away," Edward told Blogtor Who. "Not only had I worked with her for five years, but being a fan of the show for most of my life, she had played a hero for me and countless other generations."
• Arthur Darvill (Rory) tells the Sunday Mercury that he has a real love for his hometown of Birmingham, England. So much so that he plans to retire there. "I have a real love for the city. When I was younger I was desperate to get out, but now I have fallen in love with it again."
• This week's companion is the Brigadier, a man some people believe is not a true companion because he didn't travel in the TARDIS (neither did Liz Shaw, btw) and didn't scream and run away when faced with danger. Balderdash and piffle!
• We know how much you love a good argument about the Doctor, and how much you love to vote about things, so, once you're done here, why not head over to Gigwise, where they're running a poll to work out which of the eleven Doctors (sorry Peter Cushing, you don't count) is the best.

Of course, we all know it was Tom Baker, right? *evil grin*
Read More
Filed Under: