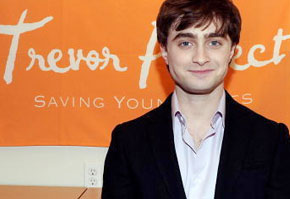 What is the world coming to when a man who self-identifies as a geek, a man who's spent most of his upbringing having to wear geeky glasses and pretend to be able to do magic, has admitted to having no experience of one of the geek world's most reliable gateway drugs, namely the first Star Wars film?
The real first one, that is; Star Wars, not The Phantom Menace. No one cares whether Daniel Radcliffe has seen The Phantom Menace or not.
Anyway it's true. Daniel Radcliffe has told the Moviefone website that he's never seen Star Wars. And when they pointed out that it takes a certain amount of effort in this day and age to have missed out in this way, he replied, sheepishly: "I know. Yeah, I know. It's really bad."

He explained: "I saw The Phantom Menace [see? No one cares], and everyone's like, "You saw that one! You didn't see the originals?!" I know! I was ten! I didn't know any better!
I know that I would love them because I'm a geek — so I would definitely get into them. What 'Star Wars' and 'Potter' have in common is a huge devoted fan base. Where they differ, I think there is a — and this is my perception, I may be completely wrong — I think there is a slightly more balanced split between the sexes in the fan base of 'Potter.' I associate 'Star Wars' as being a predominantly male thing. And I think 'Potter' is split more evenly.
"The difference is also that any kind of a franchise where a world is created will then engender a generation of nerds. Fantastic! Nerds are the best things in the world. I think of myself as a nerd. What was the Bill Gates thing? "Be nice to nerds, you'll probably be working for them one day." But I think the difference is because 'Potter' started out as a book, it's created a generation of literary nerds in a way that 'Star Wars' perhaps didn't. But, basically, it's all the same.
"I mean, I do think of 'Potter' as being this generation's 'Star Wars.' It's something that an entire generation as lost themselves in and it's a meticulously created, detailed world. So I do think that's the closest thing to compare it to."
Lightsabre, wand…potato, potahto.
Read More
Filed Under: