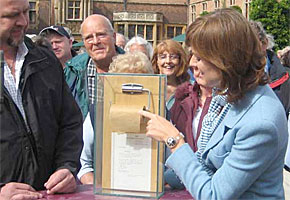 There's a lot of guesswork involved in evaluating antiques. Most of the time, if it's an item which is not immediately familiar, antiques dealers are basing their estimates on items which appear to be broadly similar, and what they have sold at auction recently.
Of course, the problem with auctions is the value of objects can be massively skewed by the passions of one or two people who happen to be in the room when the item is up for sale, and again, the item you may take to be valued might be so unique it's impossible to make a comparison, much less hazard a guess as to its true monetary worth.
So you've got to feel a twinge of pity for the team on the BBC's Antiques Roadshow, who were recently asked to assess the going rate for a roll of EMI-branded toilet paper from the '60s, a roll which was bought to be put in the gents loos at Abbey Road studios, and definitely will not have been used by the Beatles (or, given its clean state, anyone at all….).
The Fab Four refused to use this particular brand because it was hard and shiny, according to Barry Thomas, who bought it for £85 back in 1980, when the studio was having a sale. The roll had been mounted on a wooden board, and is accompanied by a (jokey) letter of authentication from Ken Townsend, the studio manager at the time.
But does that mean it's actually worth money? And if so, how much? Well for once, the Antiques Roadshow experts admitted to being flummoxed.
Barry, who runs his own recording studio in Coventry, told the Mirror: "I just wanted a souvenir from the great days of Abbey Road and bought the lavatory roll for a laugh. I submitted it to the Roadshow's experts because I wanted to get a valuation, but they said they couldn't price such an odd object."
"A Japanese Beatles fan has offered me £1,000 for a single sheet, but I don't fancy unrolling it all," he said.
Why, what's it made of, shellac?
How much would YOU pay for some Beatle bogroll? Tell us here:
Read More
Filed Under: