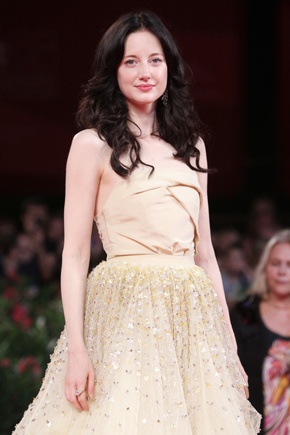 Things have never been so good for 29-year-old British actress Andrea Riseborough, whose career is rapidly ascending. Her talents have been displayed on screen at the Venice Film Festival, where the eagerly awaited film W.E. — directed by Madonna — has had its world premiere.
Riseborough plays the American socialite Wallis Simpson, who married King Edward VIII after he gave up the throne in 1936 for, as he famously put it, "the woman I love."
The actress is also featured in the film Brighton Rock, which opened in the U.S. last week. She appears opposite Dame Helen Mirren and Sam Riley, playing the role of the meek waitress Rose in a new adaptation of Graham Greene's classic novel.
She has three more pictures in the pipeline, the thrillers Resistance and Shadow Dancer and the crime action film Welcome to the Punch.
Not bad for an actress who so far has had relatively few roles on the big screen: last year she was seen in Never Let Me Go and Made in Dagenham.
2011 could really be her big year.
She's been telling me about working with Madonna, her role in Brighton Rock, British royalty, making her home in Idaho, and her newfound success.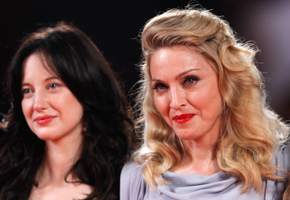 TOM: How does Madonna operate as a director? Is she very hands on?
ANDREA: She has incredible focus. Everything is meticulously detailed, and I don't just mean the aesthetic. I'm talking about an emotional journey because that's really what we're trying to capture. I just really, really enjoyed working with her.
TOM: How do you view Wallis Simpson as a woman?
ANDREA: My feelings toward Wallis Simpson are total warmth and moments of utter self-loathing, all the feelings that you would have towards yourself. I found her very inspiring, and I found her very vulnerable. I found her very sad.
TOM: I don't know the details of the film, but it does touch on royalty. Are you a royalist? Are you a fan of matters royal?
ANDREA: Am I fan? I think I was the only person in Idaho who didn't watch the royal wedding actually. That's where I live, by the way. Probably I'm one of the only British people there so I think they were even more confused that I wasn't watching. It's not that I don't take an interest in it, but I'm a voracious reader so I suppose what I might have been doing is reading a book when that was happening or watching something with subtitles in the cinema.
TOM: Why did you want to play the part of Rose in Brighton Rock?
ANDREA: I suppose it's just the most simple of answers in the sense that when you read a script, when something works straight off of the page and into your gut, then that can't be ignored obviously. It was really a wonderful, wonderful ride.
TOM: What was it like playing opposite Sam Riley, because he gives a pretty intense performance, doesn't he?
ANDREA: It was glorious. It was being cradled in support. Sam and I operate on a very similar level I suppose in the sense that we have a similar approach. We're both very instinctive, and it was really very easy, and it sounds like such a sort of graceless word to grace our relationship with, but it was just a very fulfilling experience and one that felt like we were able to break through anything.
TOM: I know that you've really been very busy recently. Was there a moment when you suddenly realized that things were changing and that you were getting a lot of work?
ANDREA: That's such a very hard question. I've always worked very hard. I've always been very picky, and I've never not worked. I've never ever done anything I don't want to do, and I've never felt compromised artistically in my choices, and so I'm in a fortunate position on one hand to say that there's never been a time when it's not been busy, and also I know that the reasons for that is really hard work. So I've never felt like there's been one moment. I felt very grateful and excited about all the moments.
Read More
Filed Under: