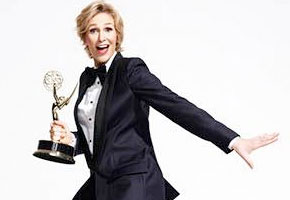 You join us at a very tense time. It's the 63rd Emmy Awards, the first half (the Creative Emmy Awards) has already happened and we're starting to worry about some of our best-loved programs and whether they are going to emerge victorious.
The second half (the Primetime Emmy Awards), is due to take place on Sunday (September 18th) and will be live broadcast on Fox. But which of our favorite TV shows is already getting a dressing down from coach in the changing rooms?
Let's see.
As we reported when the nominations first came in, the big British hope was Downton Abbey, which had been nominated for 10 awards across both ceremonies. Other British nominations included Sherlock (four awards), Episodes (two awards, although one was for Matt LeBlanc, so that doesn't count), Upstairs Downstairs (four awards), Luther (one award, although Idris Elba was also nominated for his guest appearance on The Big C) and Ricky Gervais's stand-up show (just the one).
Oh and of course Kelly MacDonald (Boardwalk Empire) and Archie Panjabi (The Good Wife) are both still up for Supporting Actress in a Drama.  Alan Cumming is up for Supporting Actor (The Good Wife again), Hugh Laurie is nominated as Best Actor for his role in House as is Kate Winslet  (Actress) for Mildred Pierce.
So far, as far as actual results are concerned, it's been a little disappointing. Cat Deeley lost out to Jeff Probst for the Outstanding Host award. Idris Elba didn't take home the Outstanding Guest Actor In A Comedy Series trophy, the award went to Justin Timberlake for his Saturday Night Live guest-spot.
Of the technical awards, Downton Abbey won Outstanding Costumes and Outstanding Cinematography, but Mildred Pierce appears to have barged to the front of the queue, having nabbed two of Downton's prospective awards (Art Direction and Casting) and one of Sherlock's (Music Composition).
In contrast, Sherlock, which had been up for four Creative awards, has had to make a dignified exit with nothing. Which is surely a crime against quality TV?
So, that just leaves the relatively trifling matter of, ooh, ALL the rest of the awards and everything to play for. Who will win? Who will have to pretend to be dignified in defeat? Who's gonna strop off in a huff?
Only one way to find out. From 8 pm (ET) on Sunday.
All the winners and nominees are available from the Emmy website.
Read More
Filed Under: