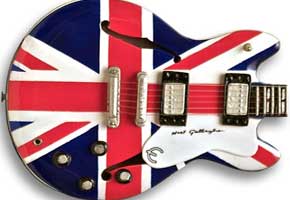 It's been a while since we did a chart roundup, mainly because our charts and your charts look pretty much identical from one end of the year to the next, but it seemed important to mark this, the first time the British Singles Top 5 has been peopled entirely by British performers (bar one guest appearance from an American) since October 2007. That's nearly four years under the day-glo, patent leather jackboot of American popular culture (which we love, by the way).
Hmmm. I wonder if that's left any kind of mark on the type of music and performance we're now used to from our pop stars? Let's see shall we? Here's the countdown:
No.5: DJ Fresh ft. Sian – "Louder"
We're off to a decent start. This clearly owes just as much of debt to the European wing of dance music and British drum & bass as it does to American hip hop. I'd mark this one up as a draw, a global collaboration of influences. Kinda stirring, isn't it?
No.4: Ed Sheeran – "The A Team"
The Sheeran has become an unstoppable force this year. A teenage troubadour with a vinegary eye for sour detail which rivals that of Alex Turner, albeit dressed in more romantic clothing. The video's a little NSFW, but not very, and does drive the message of the song home.
No.3: The Wanted – "Glad You Came"
A strange song, this. It begins like Coldplay, before launching into an accordion-led trance verse, and then kicking up into, well more of the same, really, only louder. If there's an over-riding influence which has pushed pop music in this direction over the past few years, you'd have to point the finger at David Guetta. And he's French.
No.2: JLS ft. Dev – "She Makes Me Wanna"
Well you'd struggle to find a song which so efficiently condenses the pop music of the last eighteen months into one song. There's a girl and a floor, something needs turning up, a wordless vocal refrain for a chorus and a fair amount of giddy nonsense which seeks to confuse dancing with sex. Oh, and the token American in our list is Dev, who appears to have turned up in order to pretend to be Ke$ha.
No. 1: Cher Lloyd – "Swagger Jagger"
Oh yeah, we're really overthrowing the yoke of cultural invasion with this one. Cher was a runner-up on last year's X Factor, and this is her first single. It is, as you'll already have noticed, a strange hammering-together of "Hollaback Girl" and "My Darling Clementine," using an electric rubber siren as glue. And, as all good pop music should, it will drive most parents to gibbering distraction.  Still, at least it is neither a ballad nor an aimiable skank by a geezer in a cardigan.
So there we have it. The British charts (Top 5 only) are finally free of Americans, and doesn't it show? No.
Read More
Filed Under: